News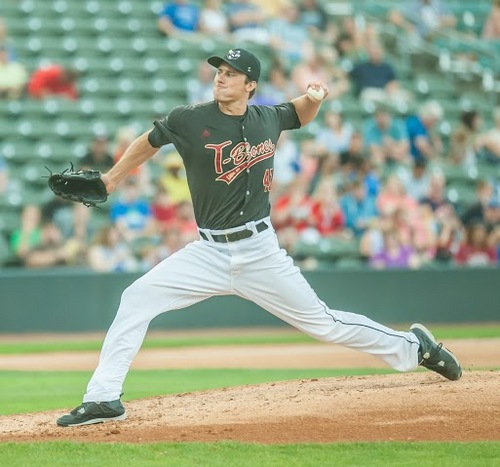 09/13/2016 5:09 AM
-
By COURTNEY DAY
tbonesbaseball.com

When Mike Kickham told one of his elementary school teachers he was going to grow up to be a professional baseball player, she told him he should focus on something that was more realistic.

"All I could think was, who was she to tell a little kid to not pursue his dream?" said Kickham. "Growing up all I ever wanted to do was play professional baseball."

The odds were pretty slim. There are approximately 5.3 million youth baseball players, and only 5.6 percent of high school players go on to play in the NCAA, let alone be drafted by a major league team. However, after playing in the NCAA, the San Francisco Giants drafted Kickham in 2010. Four years later he was a part of the team that was deemed the world's best.

"You know, I got kind of lucky," he said. "For me it was all about being in the right place at the right time."

Kickham, a Springfield, Mo. native, posted a 1.16 ERA during his senior year of high school, while also batting .390 as an outfielder. His collegiate career began at Crowder College where we went 3-3 with a 5.62 ERA before transferring to Missouri State. In 15 games, Kickham struck out 103 batters. After being drafted, Kickham quickly rose through the ranks of the Giants organization reaching triple-A in 2013. Kickham spent two months with the triple-A Fresno Grizzlies, where he posted a 7-7 record with a 4.41 ERA, before being promoted to the majors.

"Another player got injured and opened up a spot," said Kickham. "I knew I was throwing well, but so was everyone else. I knew there was a chance, but wasn't sure it'd be me. It's pretty rare when you have a childhood dream like that come true."

Kickham's major-league debut came on May 28, 2013, against the Oakland A's. He gave up four hits, four runs and struck out three batters. Although the Giants would lose the game 6-3, it wasn't the final score that Kickham remembers most.

"It was a pretty unforgettable experience," Kickham said. "When you look up and there are just 40,000 fans all around you. I just tried to remind myself I was pitching to a guy 60 feet 6 inches away from me, just like always. There is no way to prepare for something like that. You can only get used to it, once you've experienced it."

Kickham listed off the names of some of his most memorable experiences in Major League Baseball. Striking out Alex Rodriguez in Yankee Stadium, facing Yasiel Puig at the height of his career, having Buster Posey as his battery mate, and being around guys like Madison Bumgarner in the clubhouse.

"Another name, another future hall of famer," Kickham said of his former teammates and opponents.

Kickham was claimed off waivers by the Chicago Cubs in December 2014 before being traded to the Seattle Mariners. After a brief stint without playing baseball, Kickham was signed to a minor-league contract with the Giants in January 2016 before being released in early May.

"That staff is unreal," said Kickham. "They hire the right guys, put you in the right position. That's why they've won three world series in five years. I absolutely still root for (the Giants). They have a special place in my heart for the experiences they afforded me."

After moving on from the Giants, Kickham was stuck in cross roads with his baseball career. Several teams showed interest in him as a relief pitcher, but that wasn't where Kickham felt he belonged.

"I find some comfort in the routine of the team," said Kickham. "Comfort in the position of starting on the mound."

With the opportunity to pitch for several different teams, Kickham looked to the Midwest, for an opportunity to finally play close to home.

"I wanted to come here [Kansas City] to play," he said. "It finally gave my parents the opportunity to be able to come watch me play. Before, I was playing all over and that just wasn't that option."

The Kickham family pedigree is not shy of athletic talent. Kickham's dad Kevin was a tennis player at Truman State, while his mom Dana played volleyball at Florida Southern. As one of four children who all grew up involved in sports, Kickham names his twin brother Dan as his permanent catch partner growing up.

The name Dan Kickham might be a familiar name for some fans, as he pitched for the T-Bones briefly in 2012. Dan was drafted in 2010 by the Colorado Rockies out of Crowder College but he decided to finish his college career at Missouri State. Dan was then drafted again in 2011 by the Detroit Tigers. He pitched for the Tigers organization in 2011, finishing the season with a 2-0 record.

"I told him to have fun here," Dan said, as he watched Mike pitch in late August at CommunityAmerica Ballpark. "I thought he'd like it, I really enjoyed my experiences here and figured he would too."

Although Dan's baseball career was over by the time Mike made his major-league debut, it was a moment for both of them. Dan and Mike played together throughout high school and college before moving onto their professional careers.

"It was definitely great to see him [in the majors]," said Dan. "He gave it his best shot and it was awesome to be there for that moment."

While Mike was the one on the mound, by himself, he is quick to credit his brother for playing a large role in his success.

"I don't think I tell him enough, but I wouldn't have a lot of my experiences or skill without him," said Mike.

Mike shied away from stating exactly what his future goals were, and where he wanted to go next. But it's no surprise that a big-league pitcher has some big standards and goals set for himself.

"You can get caught up in looking down the road at what's next," he says. "Being here I looked to improve every day in all aspects of my life, not just baseball."

Kickham proved to be a staple in the Kansas City rotation this season with a 3-5 record and a 2.83 ERA, which finished fourth in the American Association. In 14 starts he struck out 73 batters and walked 26. And he became the first T-Bones player who has a World Series ring.

That little kid's dream isn't so farfetched after all.