News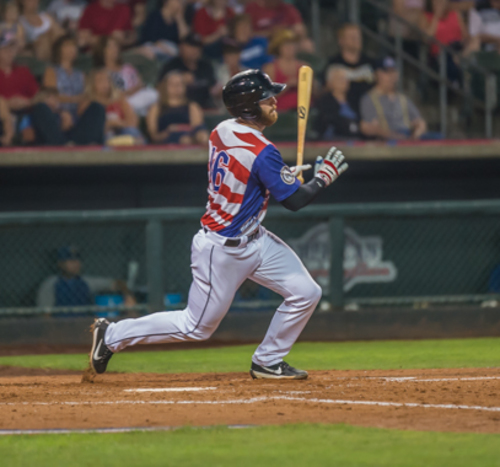 07/04/2017 10:12 PM
-
KANSAS CITY, Kan. – On a dreary Independence Day, the Kansas City T-Bones couldn't overcome the Sioux Falls Canaries' three-run fourth inning, losing 4-1, and snapping their six game winning streak on Tuesday night at CommunityAmerica Ballpark.
Similar to last night's 10 inning thriller, both the T-Bones and Canaries got off to a slow start staying scoreless throughout the first three innings. Kansas City's poor pitching in the fourth allowed Sioux Falls to take control of the game.
Right-handed pitcher, Gabe Perez (5.23 ERA), walked in the first run with the bases loaded and then allowed the Canaries' third baseman, Louis Mele, to score off of a wild pitch, giving Sioux Falls a 2-0 lead. Second baseman, Brett Marr, extended the Canaries' lead to three runs with a single RBI to score shortstop, Blake Schmit.
Following in last night's pattern, first baseman, Kyle Petty, added a run for the T-Bones in the bottom of the fourth with an RBI single to left field scoring second baseman, Marcus Lemon, to put Kansas City within two.
The Canaries stretched their lead back to three in the fifth with an RBI single from Schmit to score American Association home run leader, Chris Jacobs. Sioux Falls' lead would stay 4-1 to end the game as the T-Bones couldn't come back from the Canaries' three-run fourth inning.
Right-handed pitcher, Troy Marks, picked up the win, evening the series at 1-1 going into tomorrow night's final game. The T-Bones' right-handed pitcher, Gabe Perez, took the loss unable to control his fourth inning mistakes costing Kansas City the win.
The T-Bones will play the final game of a three game series with Sioux Falls tomorrow night at 7:05 p.m. at CommunityAmerica Ballpark. Stay after the game to enjoy a game of post-game catch on the field.
For additional information or interview requests, members of the media may contact the T-Bones Media Relations Department at 913-328-5639. Tickets are available online, by calling (913) 328-5618 or by visiting in person the Providence Medical Center Box Office.
-- T-Bones --