News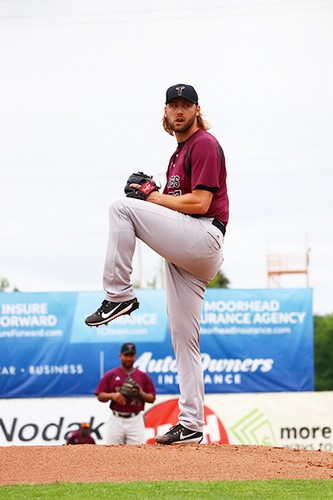 07/13/2017 3:19 PM
-
FARGO, ND – The Kansas City T-Bones (30-21) have had a great first half to the 2017 season and have not been shut out yet this year. But Fargo-Moorhead (25-27) made one third inning run stand up behind starter Will Solomon to win the final game of the series 1-0 Thursday afternoon, shutting out Kansas City for the first time this season.
T-Bones starter Matt Sergey (2-1) got the loss but struck out nine and had a great afternoon for Kansas City. The RedHawks got an RBI single just past a diving Kevin Keyes at first base from Chris Grayson for their only run in the home half of the third. The hit scored Charlie Valerio who walked to lead off the inning. It was the only walk Sergey surrendered on the day.
The RedHawks starter Solomon (4-1) walked three and scattered three hits over eight innings to hold off Kansas City. The T-Bones did get the lead off and tying run on base in the ninth off of Solomon on a Marcus Lemon walk, but Chris Weathers retired the next three batters to earn the save, his ninth, as Fargo-Moorhead salvaged the final game of the series.
The six-game road trip continues with a three game series at Winnipeg beginning Friday night with the game time set for 7:00 pm. The game can be heard online on the T-Bones Broadcast Network on the T-Bones' MixLR page on the MixLR app on your phone or device, or head to tbonesbaseball.com and click "listen live". New this trip--if you are used to following the games at home on AmericanAssociation.TV, you can listen in live there as well to the audio call of the game.
Following the series in Winnipeg the T-Bones return home Tuesday, July 18 to open up a six-game home stand. For additional information or interview requests, members of the media may contact the T-Bones Media Relations Department at 913-328-5639. Tickets are available online, by calling (913) 328-5618 or by visiting in person the Providence Medical Center Box Office.