News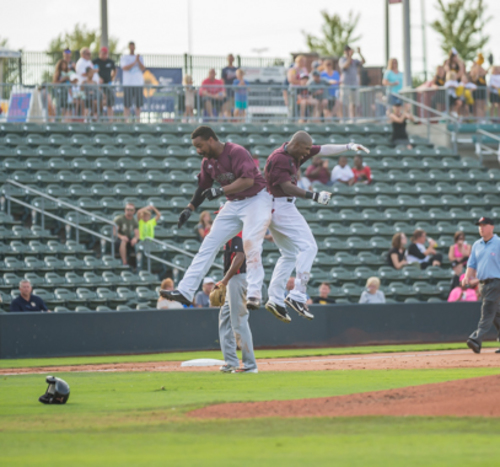 07/27/2017 9:28 PM
-
KANSAS CITY, Kan. – The Kansas City T-Bones swept the double-header against the Texas Airhogs, winning the second game 4-3, on Thursday night at CommunityAmerica Ballpark.
After an exciting, 2-1, walk-off victory, featuring right-handed pitcher, Matt Sergey's (3-3, 3.95) first no-hitter with Kansas City, the T-Bones worked toward win number two on the day.
Designated hitter, Denis Phipps, took control of the game for the Airhogs, moving in runs in both the first and third innings. He advanced off a single to right field to open up the game and put Texas up 1-0.
Kansas City didn't let the Airhogs' early lead affect them as they evened the score in the bottom of the inning. A double from T-Bones' right-fielder, Kyle Petty, tied the game at 1-1 going into the second.
Advancing to first by way of a fielder's choice, Phipps brought in two more runs to put the Airhogs up 3-1 in the third inning.
The T-Bones were able to pull within one run thanks to an RBI single from third baseman, Jordan Edgerton, but it appeared as if the Airhogs had the momentum moving forward.
Although Kansas City remained scoreless for the following two innings, they came up big in the sixth to take the lead and sweep the double-header with the Airhogs.
Center fielder, Cedric Hunter, tied the game up at three runs each after singling to center field and bringing in newly signed catcher, Zane Chavez. Kansas City followed with a sacrifice fly by Kevin Keyes to score designated hitter, Leo Rojas, for the 4-3 victory.
Right-handed pitcher, Calvin Drummond (5-2, 5.42) tossed the second win of the day for the T-Bones, while righty, Jared Mortensen (3-2, 3.65), suffered the loss. Cody Winiarski, a right-handed pitcher, threw the save for Kansas City, moving him into the American Association four-way tie for first with 13 saves.
Scott Carroll (5-3, 3.19) will start on the mound tomorrow night for the T-Bones with right-handed pitcher, TJ Bozeman (3-4, 3.12) pitching for the Airhogs.
The T-Bones (36-26) will continue a four game series with the Airhogs (25-38) tomorrow night at 7:05 p.m. at CommunityAmerica Ballpark. Celebrate Christmas in July with a T-Bones Christmas ornament giveaway!
For additional information or interview requests, members of the media may contact the T-Bones Media Relations Department at 913-328-5639. Tickets are available online, by calling (913) 328-5618 or by visiting in person the Providence Medical Center Box Office.
-- T-Bones --