News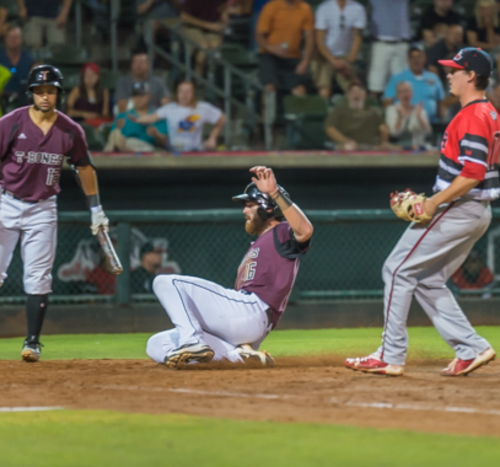 07/29/2017 10:02 PM
-
KANSAS CITY, Kan. – In T-Bones fashion, Kansas City swept the four-game series against Texas in a 2-1 tenth inning comeback after late game-tying heroics from centerfielder Cedric Hunter.
Right-handed starter Chris Perry got things started for the T-Bones going seven innings, striking out 3 batters, giving up 5 hits but allowing no runs.
It wasn't until the eighth inning when Texas' Casio Grider scored off of a wild pitch from Myles Smith, giving the Airhogs the 1-0 lead.
While it looked as if the T-Bones would drop the fourth game of the series, Cedric Hunter hit a single to right field scoring designated hitter Leo Rojas to tie the game up in the bottom of the ninth, 1-1.
Cody Winiarski (3-1), who ultimately notched the win for Kansas City, gave up two hits but kept the Airhogs at bay in the top of the tenth. A single from Tyler Horan put Kyle Petty onto third base in the bottom of the tenth, who scored the winning run off of Robert Tasin (0-1), who suffered the loss for Texas.
This is the third series Kansas City has swept this season. The previous two were on the road at Gary and Sioux City.
The T-Bones (38-26) will hit the road on Tuesday for a three-city road swing at Cleburne, Lincoln and Fargo-Moorhead. They will return home on August 10 for a four-game series against Lincoln.
For additional information or interview requests, members of the media may contact the T-Bones Media Relations Department at 913-328-5639. Tickets are available online, by calling (913) 328-5618 or by visiting in person the Providence Medical Center Box Office.
-- T-Bones --