News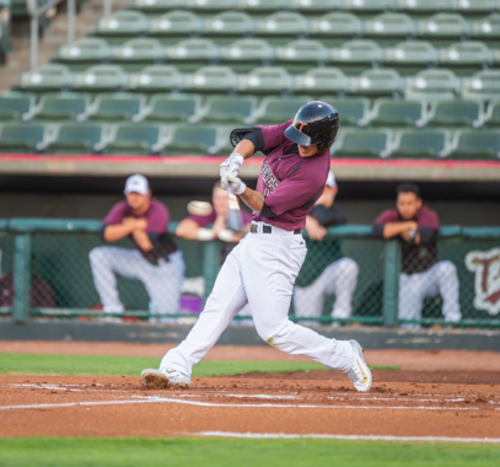 05/10/2018 10:25 PM
-
KANSAS CITY, Kan. – The hitting frenzy continued Tuesday night as the Kansas City T-Bones pounded out 15 hits, including two homeruns in an 8-2 win over the Gary SouthShore RailCats. The win secured a sweep of a two-game exhibition series for Kansas City.
Zach Walters blasted a lead-off homerun in the bottom of the first inning giving the T-Bones an early 1-0 lead. The T-Bones added to their lead in the home half of the second on a RBI single from JC Rodriguez for a 2-0 lead.
In the fourth inning, the RailCats clawed their way back. Colin Willis singled and a Cole Fabio walked to set the stage for the RailCats Wilfredo Gimenez. The Gary catcher delivered a two-run double, evening the score 2-2.
The T-Bones responded in the fifth inning when Adam Walker lined a RBI single, scoring Zach Walters for a 3-2 lead. Jason Rodgers followed with a RBI double to give the T-Bones a 4-2 advantage. The T-Bones bats came alive in the eighth as Cal Towey singled driving in Dylan Tice extending the T-Bones lead, 5-2. Angel Rosa crushed a three-run homerun down the left field line driving in Towey and Tucker Pennell to break the game wide open at 8-2.
Travis Hissong (1-0) secured the win for Kansas City. Hissong allowed two earned runs in two innings pitched.
The T-Bones (3-0) will continue exhibition play tomorrow on the road against the Lincoln Saltdogs, at York, Nebraska. T-Bones return home Monday night, May 14th, at 7:05 p.m. for the first of a three game exhibition series against the Winnipeg Goldeyes.
Season, group, mini-plans and nightly party suites are on sale now and can be purchased by visiting the Box Office at T-Bones Stadium. Call the Box Office at 913-328-5618 or purchase and print at www.tbonesbaseball.com. Box office hours are 10:00 am to 4:00 pm Monday – Friday and10:00 am to 2:00 pm Saturday. For additional information or interview requests, members of the media may contact the T-Bones Media Relations Department at (817) 739-3693. Stay tuned to www.tbonesbaseball.com. and the T-Bones Facebook and Twitter pages for updates throughout the offseason. Home opening night is May 22 when the T-Bones host Gary SouthShore at T-Bones Stadium at 7:05 pm.