News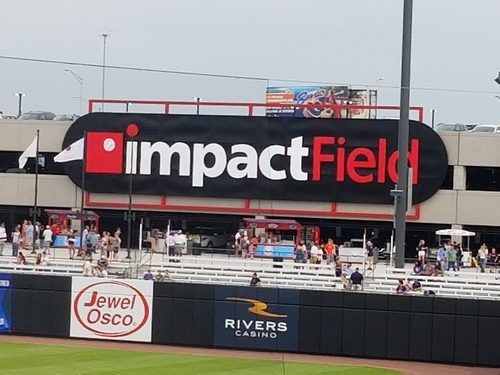 05/26/2018 9:17 AM
-
ROSEMONT, IL. –Impact Field in suburban Chicago by all accounts is a publicly funded park. After the Friday night historic first home opener for the Chicago Dogs in front of 6,317 fans, the T-Bones Zach Walters may be the sole owner of the new 60-million-dollar park. Walters launched two home runs and drove in four runs as Kansas City came from behind to win 8-4 for the teams third straight win.
The T-Bones took the lead in the first on a Dylan Tice solo home run off Scott Barns. In the top of the fifth Zach Walters launched his first homer of the game off Tyson Perez to make it 2-0. Luis Paula held the Hot Dogs scoreless through four innings but ran into trouble in the bottom of the fifth.
Paula retired the first man he faced but then hit back to back batters in Wilfredo Rodrigues and Trey Vavra. He then walked Matt Dean to load the bases. For the third time this week a T-Bones pitcher hit a batter with the bases loaded scoring a run. Paula hit Kyle Gaedele to bring home a run and it was 2-1 Kansas City. Edwin Arroyo then singled to tie the game at two and then Michael Macca drove in two with another single to give Chicago the lead. 4-2.
Kansas City could not crack the Chicago bull pen until the ninth. Kaohi Downing came in to work the ninth for Chicago and hit Dexter Kjerstad to start the inning. Jordan Edgerton would single with one out to put runners at the corners. Angel Rosa then lined a homer run to left center to give the T-Bones the 5-4 lead.
Johnny Davis reached on a perfectly placed bunt single and Dylan Tice would be hit by a pitch to put runners at first and second. Walters then provided the knockout punch with his second shot of the night to make it 8-4 Kansas City. The T-Bones Carlos Diaz worked a scoreless home half of the ninth as Kansas City won it 8-4.
Kansas City (4-3) has won three straight while, Chicago fell to (1-6). Game two of the series is Saturday night from Chicago. The game can be heard online on the T-Bones BroadcastNetwork.
Season, group, mini-plans and nightly party suites are on sale now and can be purchased by visiting the Box Office at T-Bones Stadium. Call the Box Office at 913-328-5618 or purchase and print at www.tbonesbaseball.com. Box office hours are 10:00 am to 4:00 pm Monday – Friday and 10:00 am to 2:00 pm Saturday. For additional information or interview requests, members of the media may contact the T-Bones Media Relations Department at (817) 739-3693. Stay tuned to www.tbonesbaseball.com. and the T-Bones Facebook and Twitter pages for updates throughout the off season.
--T-Bones--