News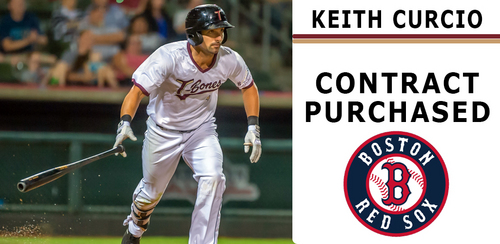 11/30/2018 5:48 PM
-
KANSAS CITY, Kan. – The Kansas City T-Bones announced today that the Boston Red Sox have purchased the contract of outfielder Keith Curcio. Curcio is the second T-Bones player to have his contractpurchased this off-season, an off-season that followed a busy championship regular season where Kansas City had 8 players' contracts sold to affiliated clubs and another pair of players signed with AAA Mexico, all en route to winning the American Association Championship.
Keith Curcio was signed by Kansas City on April 3, 2018 after spending four seasons with the Atlanta Braves organization, reaching AA Mississippi in 2017. Curcio played the outfield for the T-Bones but has also played 2nd base in his career in the minors. The Sarasota, Florida native played in a team leading 94 games for KC in 2018, hitting .306 for the season and was one of only two opening night starters to finish the season with the T-Bones. He would hit a career high and team leading 11 home runs for the T-Bones with 57 RBIs, tying Noah Perio Jr. for the team lead. Curcio would slap 22 doubles and steal 20 bases, good for second on the club.
Curcio added another homer and RBI in nine playoff games, hitting .286 for the American Association Champions. His second inning solo home run in game two of the American Association Division Series on September 5th gave the T-Bones the lead in an eventual 4-2 series-tying win. In game three of the League Championship Series, Curcio drew a big walk in a six-run sixth inning against St. Paul, helping the T-Bones overcome a 3-1 deficit on the way to a 7-4 win to take the series lead at 2-1. In the championship clinching game win, Curcio led off the fifth with a double and would score later in the inning to cut the Saints lead to 3-2 as the T-Bones would eventually overtake St. Paul, 5-3.
Curcio was drafted in the 6th round out of Florida Southern College by the Atlanta Braves in the 2014 MLB June amateur draft. In 2017 Curcio played in 120 games at AA Mississippi for Atlanta, hitting .219 with 4 home runs and 21 RBIs. Curcio began his career with Rome in the South Atlantic League with the Braves organization in 2014. In 2015 Curcio began the year with Rome, playing in 32 games and hitting a career high .342. Curcio finished out the year playing 101 games for the Carolina Braves, hitting .241 with 4 home runs and 38 RBIs. In 2016 Curcio played 124 games for Carolina, this time hitting .271 with 3 home runs and 54 RBIs. At Florida Southern College, Curcio averaged .315 with 19 RBIs in 39 games.
The T-Bones players contracts purchased during the 2018.
11/2/18: LHP Nick Lee-–contract purchased by the Cincinnati Reds, 39th player sold and ninth since opening day 2018.
8/4/18: IF Dylan Tice—contract purchased by New York Mets, 38th player sold.
7/24/18: IF Taylor Featherston—contract purchased by the Cincinnati Reds, 37th player sold.
7/13/18: LHP Joe Filomeno—contract purchased by the Seattle Mariners, 36th player sold.
7/17/18: IF/OF Nick Torres—contract sold to the Texas Rangers, 35th player sold
7/7/18: LHP Carlos Diaz—contract purchased by Cincinnati Reds, 34th. player sold.
7/3/18: LHP James Buckelew—contract purchased by the Chicago Cubs, 33rd player sold.
5/22/18: OF Adam Brett Walker—contract purchased by the Washington National, 32nd player sold.
5/19/18: RHP Cody Martin—contract purchased by the New York Mets, 31st player sold.
2019 full and half-season ticket packages, as well as mini plans, are on sale now online or by calling (913) 328-5618 or visiting the T-Bones Stadium offices. Group ticket sales for renewing accounts are on sale now, while new group ticket sales will open to the general public on December 11, 2018.
For additional information or interview requests, members of the media may contact the T-Bones Media Relations Department at (817) 739-3693. Stay tuned to www.tbonesbaseball.com. and the T-Bones Facebook and Twitter pages for updates throughout the season.
#FUNWELLDONE#