News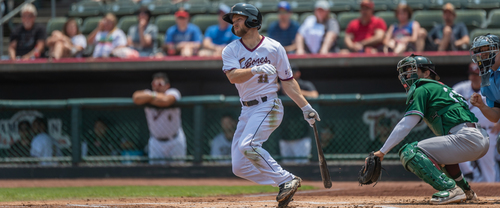 06/02/2019 3:31 PM
-
By: Nolan Brooks
KANSAS CITY, Kan.— The struggle bus chugged on for the Kansas City T-Bones (7-8) after losing their fifth straight game by a 11-6 score and getting swept by the Gary Southshore RailCats (9-7) in the final game of the weekend series.
Nick Lee (0-1) entered in relief for Jon Perrin and was tagged with the loss after giving up an earned run in the top of the sixth, Gary's relief pitcher David Griffin (2-0) earned the win.
The T-Bones of old came back to life in the first inning after two web gem defensive plays stopped the RailCats in their tracks, and a base hit from Carlos Franco gave the T-Bones a 1-0 lead, ending the streak of scoreless first innings. The RailCats would not hang their heads for long. They scored two runs the next inning off a base hit from Andy DeJesus to give Gary the 2-1 lead. But the T-Bones came right back with a two-run blast into the parking lot from Roy Morales that would snatch the lead back and put Kansas City up 3-2.
The T-Bones scoring montage was not done yet after Casey Gillaspie followed up the Morales home run with a two-run shot that hooked the foul pole to increase the lead to 5-2 KC in the third inning. After a quiet fourth inning from both sides, the T-Bones broke the silence with a sacrifice fly from Gillaspie to increase the KC lead to 6-2 with five innings in the books.
The RailCats activated the rally towels and would score three runs in the top half of the sixth inning and get within striking distance of the T-Bones lead, making it 6-5. The late game antics continued after a Nick Lee balk for KC would walk in the tying run and a wild pitch from Lee was the cherry on top to give Gary the 7-6 lead through six innings.
Despite the late game push from the T-Bones, Gary would complete the series sweep with an 11-6 come from behind victory with a five-run sixth inning and a four-run ninth inning to thank for the win.
The T-Bones will hit the road and take on the Milwaukee Milkmen in a three-game series that starts Monday, June 3rd. The series is to be played at Kokomo, Indiana because of construction delays in Milwaukee on their new ball park. Hear all the action on the T-Bones Broadcast Network with a first pitch of 5:35 p.m.