News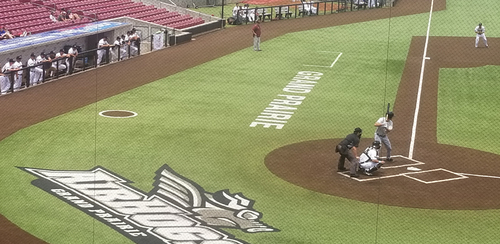 06/16/2019 4:49 PM
-
Grand Prairie, TX – The T-Bones have been on a roll in Texas, ending the series with a 7-1 win against the Airhogs and moving to 7-1 against southern division opponents.
Kansas City (14-14) pitchers only gave up a total of two runs in the first game of what was supposed to be a double-header, but it got rained out. Texas (6-22) will fall to 12 games behind in the South division.
Newcomer Christian Binford (1-0) came off the plane excited and raring to go and delivered KC a two hit and four strikeout game in six innings. Binford pitched the fifth quality start of the season for the T-Bone pitching staff. Jackson Lowery came in to pitch the last inning and let go one run with one strikeout and a hit; however, he still ended the game to give KC the series win. The losing pitcher for Texas was Kevin Hilton who sports a 2-3 record after five innings, seven runs, and four walks.
Now you can't credit the pitching entirely for the win because the T-Bone offense went off again! Christian Correa hit his first homerun of the season. In addition, Daniel Nava, Roy Morales, and Shawn O'Malley had two-hit games today. O'Malley also had at two-RBI game as well.
Kansas City will come back home for a six-game home stretch against Sioux City and Cleburne to continue their contests against southern teams.
For additional information or interview requests, members of the media may contact the T-Bones Media Relations Department at (817) 739-3693. Stay tuned to www.tbonesbaseball.com. and the T-Bones Facebook and Twitter pages for updates throughout the season.