News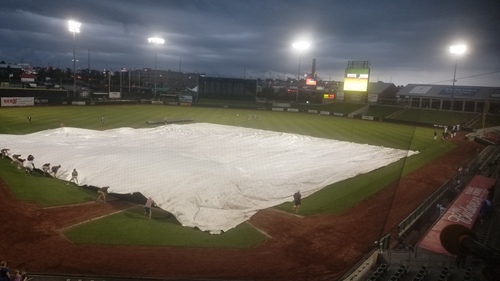 06/22/2019 8:05 PM
-
KANSAS CITY – Kan. – The Kansas City T-Bones and the Cleburne Railroaders were rained out in the middle of the third inning due to unplayable field conditions Saturday night at T-Bones Stadium.
The team, led by the grounds crew, made every effort to get the field ready to play the game, but the amount of rain that has fallen in metro Kansas City was just too much to allow the teams to take the field.
The two teams will pick up the game at 1:05 p.m. and play a seven-inning game on Sunday following the completion of the first game.
Tickets for Saturday night's game will be good for any future regular-season home game and may be exchanged at the Saint Luke's box office at T-Bones Stadium for a ticket of equal or lesser value, subject to availability.
Full and half-season 2019 ticket packages as well as mini plans are on sale now online or by calling (913) 328-5618 or by visiting the Saint Luke's Box Office between the hours of 10 a.m. - 4 p.m. Monday through Friday. Group ticket sales are also on sale now.
For additional information or interview requests, members of the media may contact the T-Bones Media Relations Department at (817) 739-3693. Stay tuned to www.tbonesbaseball.com. and the T-Bones Facebook and Twitter pages for updates throughout the season.
LISTEN TO ALL T-BONES GAME LIVE ON THE T-BONES BROADCAST NETWORK