News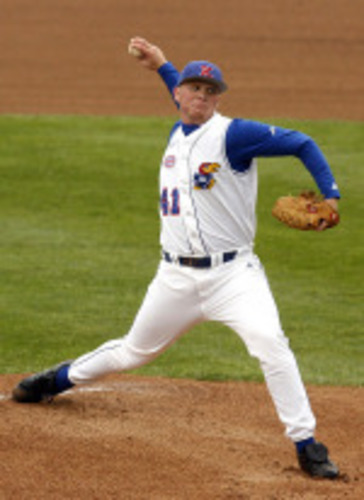 04/25/2006 6:28 PM
- Kansas junior Brendan McNamara struck out ten Southeast Missouri State Redhawks en route to a 6-0 win in the opener of the Best of the Midwest tournament, played at CommunityAmerica Ballpark in Kansas City, Kan.
McNamara worked 6.1 innings of scoreless ball, allowing just four hits while striking out ten in the rain-shortened game, which lasted just 6 1/2 innings. Kansas plated five runs in the bottom of the fifth inning to break the game open before weather took center stage.
The nightcap between Creighton and Missouri was postponed due to inclement weather and field conditions. Tickets for that game may be used for any remaining game in the tournament as well as for any T-Bones game during the regular season.
The tournament will continue tomorrow at noon, when Missouri will take on SEMO. Kansas will lock horns with Creighton at 3 pm and Kansas State will face Missouri State at 7 pm. Tickets are available by calling the T-Bones at (913)328-BALL or by visiting
tbonesbaseball.com
. The weather is forecast to be beautiful tomorrow.