News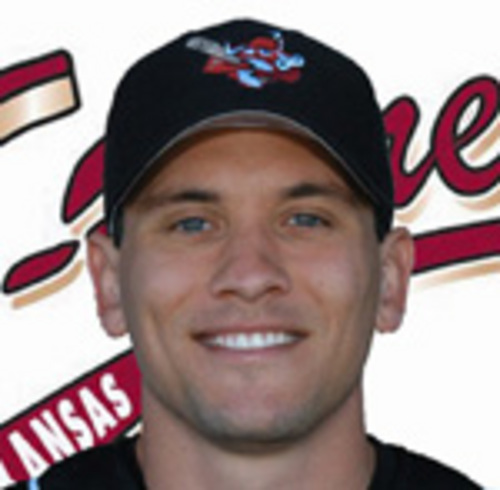 07/05/2006 2:46 PM
- CHICAGO – Kansas City T-Bones outfielder
Greg Jacobs
and righthander
Jonathan Krysa
(pictured) were named the Rawlings Northern League Player and Pitcher of the Month, respectively, for June, league VP of Operations Garrett Gosselink announced Wednesday.
Jacobs and Krysa became the first teammates to capture the NL's monthly honors since July of 2005, when Lincoln's Rodney Myers and Bryan Warner won the awards.
Jacobs led the Northern League with a .394 batting average, while clubbing five homers and driving in 25 runs in June. The 29-year-old Southern California native led the circuit in batting average, slugging percentage (.654), and on-base percentage (.492), and also ranked among the top five in hits (41), doubles (10), home runs, RBIs, and walks (17). On the season, Jacobs leads the Northern League with in hitting (.372), slugging percentage (.622), on-base percentage (.476), and doubles (16).
Jacobs is in his second season with the T-Bones after joining the club last June. In 2005, he batted .348 with 10 homers and 43 RBI in 65 games with Kansas City and has a career batting average of .344. After being selected by the Angels in the 13th round of the 1998 draft out of Cal St.-Fullerton, Jacobs compiled a 10-13 record as a pitcher in his first four seasons as a professional prior to making the transition to the outfield.
Krysa went 5-0 with a 2.21 ERA in his seven June starts, holding opponents to a .190 batting average. The Lee's Summit native yielded just 36 hits and 14 walks while striking out 42 batters in 53 innings of work. On June 2nd the 27-year-old tossed a two-hit shutout in the T-Bones' 9-0 win over Fargo-Moorhead, striking out nine batters in his third career shutout. Krysa completed his fifth straight start of at least seven innings on June 28, striking out 11 Calgary Vipers over eight innings in a 6-2 Kansas City victory.
After working eight innings Tuesday evening in a 6-3 win at Joliet, Krysa picked up his league-leading seventh win of the season. He also leads all Northern League pitchers with 59 strikeouts.
In his fourth season with the T-Bones, Krysa is the club's career leader with 354 strikeouts and currently is third on the franchise's career win list with 23 victories as a T-Bone. The Rockhurst (MO) University product was selected in the 26th round of the 2000 draft and has compiled a 32-38 record to go along with a 3.51 ERA over his seven-year professional career.