News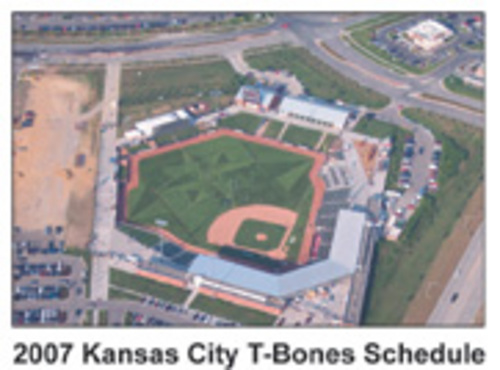 10/03/2006 3:51 PM
- KANSAS CITY – As in every other season in their history, the T-Bones obliterated their average attendance record in 2006, when 5,852 fans visited CommunityAmerica Ballpark per game, fifth in all of independent baseball. The T-Bones will try to break their per-game attendance mark again in 2007, as they again host 48 regular-season home games. The fifth season at CommunityAmerica Ballpark opens on Thursday, May 17, 2007, when the T-Bones open a seven-game homestand with a 7:05 pm start against the Schaumburg Flyers.
In 2007, the T-Bones will be members of the league's South Division, along with Schaumburg, the 2005 league champion Gary-SouthShore RailCats and the Joliet JackHammers. The T-Bones will welcome Joliet and Schaumburg for ten games, while the RailCats will visit CommunityAmerica Ballpark for eleven contests. As well, the T-Bones will host their North Division foes for a total of seventeen games, with the defending league champion Fargo-Moorhead RedHawks coming to town just once, from June 22-24, as the league again has an unbalanced schedule.
The home season opens on May 17 with a four-game set against Schaumburg before the T-Bones welcome the Edmonton Cracker-Cats for three contests. Kansas City then heads out of town for seven games, their second-longest road trip of the season.
For the first time in team history, the T-Bones will play two five-game series at home, the July 4-8 quintet against the Winnipeg Goldeyes and the season-closing set from August 29-September 2 against Gary. The July 4th game marks just the second time in franchise history that the T-Bones have been home on Independence Day.
As well, the T-Bones' promotional calendar, which has become a mainstay of summer excitement in Kansas City, will be announced in the upcoming weeks. Look for fan favorites such as Mullet Night and Elvis Night as well as others sure to become legend!
Standard game times will remain the same as in prior seasons, with 7:05 pm first pitch on Monday-Saturday and 5:05 start times on Sundays. Midweek day games will be announced at a later date. As in 2006, the T-Bones play at home on eight weekends; however, the team is at home for just two Mondays next season.
"2006 was everything we hoped it would be," said T-Bones Vice President/General Manager Rick Muntean. "We're excited with all of the growth in the Village West area, and feel this can only help make more T-Bones fans in 2007!"
Individual game tickets will go on sale in April, while group tickets will be available starting January 15. Season tickets – including mini plans and half-season packages – will be available October 16th by calling (913)328-BALL (2255). Don't miss this chance to get in on the fun!