News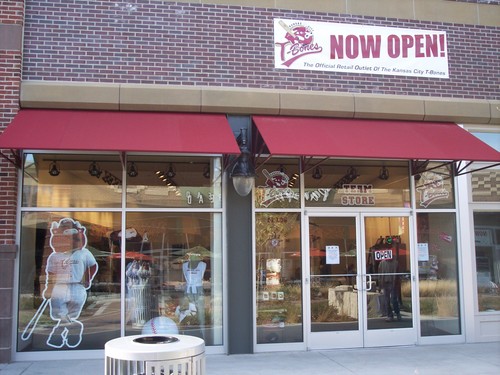 12/05/2006 1:41 PM
- The Legends at Village West welcomed a new addition to their ever-expanding selection of stores this weekend, as the Kansas City T-Bones celebrated the grand opening of their new team store on November 17th. Just in time for the holidays, the merchandise shop is the new stop to find the perfect gift for the T-Bones fan on your list.
Shoppers will have the chance to win T-Bones merchandise and tickets for the 2007 season with every in-store purchase until December 24th. The store is located across from Panera Bread, near Books a Million.
The new team store will offer a complete line of men's, women's, and children's clothing along with caps, jackets, and novelty items. Gift certificates and Diamond Debit Gift Cards are also available for purchase and can be used for tickets, ticket plans, and merchandise. The 2007 season is going to be the most exciting year yet, so head over to the store to secure your seat by purchasing ticket plans or season tickets! Buy your tickets soon, seats are filling up fast!