News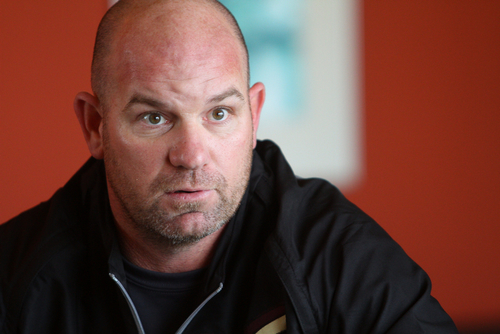 07/05/2013 8:44 PM
-
By DANNY JONES
tbonesbaseball.com

The neighborhood that T-Bones manager Kenny Hook grew up in is a strange mix of opulence and decay. He describes it as a "rough neighborhood," and it is – boarded up buildings line the streets, weeds grow over curbs and onto the street, and on many front doors, spray paint reads "Too Dangerous for Living" in government stencil font. But this is also the same neighborhood that Robert Long lived in, whose home (which looks as if it hopped out of an F. Scott Fitzgerald novel) is now the Kansas City Museum. This is the neighborhood where blocks away from poverty, hundred-year-old Victorian houses with manicured lawns and fancy landscaping sit overlooking the road. This is the way the Historic Northeast neighborhood of Kansas City is: history surrounded by atrophy.

For Hook, this is just home. And after spending a number of years following baseball's beck and call around the country, he is back.

***

Sports have always been a part of life for Hook, even in his early years. Reared in Catholic school from grade school through high school at St. Pius X, Hook was recruited by colleges in three sports – football, basketball and baseball. He knows that such a diversified sports background goes against conventional wisdom these days, although he's not sure why.

"Playing all three sports helped me get to where I'm at today," he says. "The practices and techniques and life lessons I learned in other sports helped in baseball, and vice versa."

Hook's experience in other sports was likely significant throughout his baseball career, a journey that began when he left Kansas City. That journey took him to southern Missouri, Georgia, back to the Midwest, down to Texas, and finally back home with the T-Bones.

The first stop for Hook after St. Pius X was Crowder College, a junior college in Neosho, Mo. Hook calls it a "baseball boot camp," but he attended despite offers from Division I schools across the Midwest. Hook ended up in Neosho even with schools like Missouri, Kansas and Kansas State knocking on the door.

"My parents invested so much on sports in my childhood, and I chose Crowder as part of a way to repay the debt I owed them," says Hook. "I felt it was my duty to show my appreciation so my parents didn't pay a dime."

Hook's batting average in college was in the top five around the country, but, like so many looking to make a career in baseball, his talent was hidden in the massive pool of prospects that stretch from Washington to Florida and into the Caribbean. After his second and final year at Crowder, Hook was not drafted, but still kept his eye on professional ball.

"At the time, I made the decision that I wanted to go play baseball in warm weather," he says. "I didn't want to deal with the fall and the winter. I was attracted to going south and playing in warm weather. So that's how I wound up in Savannah."

Hook spent one year in the south in school before returning to Atchison and attending Benedictine College. He was never drafted.

"I just decided, 'I know I have the ability to play professionally,' so I had it in my mind that I was going to seek out independent baseball," says Hook.

Life in independent minor-league baseball is life on the edge. And uncertain. Many players use it as a springboard to re-enter the affiliated minor leagues, where the chances of being called up are higher. Others use it as more of a farewell tour, a way of staying in the game after the likelihood of being called up wanes. Hook took a different route — he entered as a player and went on to become a manager.

His playing career began when he attended a tryout in Texas for the Lubbock Crickets, but was picked up by the Amarillo Dillas instead. He spent four years with Amarillo in the Texas-Louisiana League. While there, the Dillas won the league title in 1999. Hook was selected as MVP of the championship series. After the 2000 season, he finished his playing career – but his career in baseball wasn't over yet.

***

If you talk with Hook about what he likes about baseball, he will mention the intellectual side of the game that separates it from other sports.

"Mentally, this game is so much about failure," says Hook. "Your frame of mind is a key component of your performance."

He echoes a popular baseball truism that says a baseball player can fail seven out of 10 times at the plate and make it to the Baseball Hall of Fame in Cooperstown.

"Being able to handle failure is one of the biggest lessons young players need to learn," he says. "If you're living and dying by that stat sheet, you're often going to be disappointed."

These lessons, which Hook took in like a sponge at Crowder, are what inspired him to enter coaching. He has spent numerous years as a collegiate coach, including many years at Maple Woods Community College in the Northland. In 2011, the T-Bones hired Hook to be their bench coach. When then-manager Tim Doherty left in March 2012, Hook took his position.

Says Hook about making the transition from between the lines to inside the dugout: "[Coaching is] a career where you could really make an impact on kids' lives, and change them whether in baseball or in a career after baseball. A lot of the life lessons I've learned in the game, I've grasped the fact that I wanted to be the one to relay those on to other players after I finished my playing career."

***

CommunityAmerica Ballpark is 15 miles from the Kansas City Museum and the Historic Northeast where Hook grew up. The stadium is in a flourishing part of the city, sharing the Village West community with the Legends shopping center, Kansas Speedway and Sporting Park. The development is barely a decade old — it opened in 2002, the same year the T-Bones began play at CommunityAmerica. Now Village West is Kansas' largest tourist attraction, and has helped turn the once-downtrodden Wyandotte County into the 19th fastest growing county in the United States.

But for Hook, it is an office — he arrives at the stadium at 2:00 p.m. for games at 7:05, and usually doesn't leave until nearly midnight. Despite the long hours, he relishes the fact that this line of work hasn't relocated his family. He calls this job his "first choice," and that the pride he has for the city makes the job — and the results — personal.

"I'm happy and thankful to be with Kansas City," he says. "It's awesome. I'm grateful. I'm fortunate."

Wyandotte County and the Historic Northeast are much different now than they were in the 1980s and earlier. But it's baseball, the most humbling of sports, that took Kenny Hook out of Kansas City — and eventually brought him back. And it's what keeps him here.