News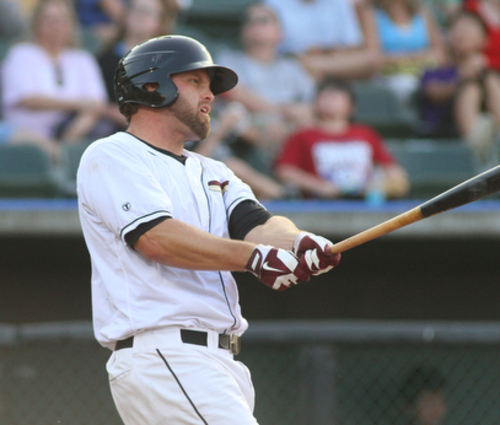 07/31/2013 8:56 AM
-
By DANNY JONES
tbonesbaseball.com

The second game of Tuesday night's doubleheader ended with a bang from the bat of Matt Padgett, who delivered his 19th home run of the year with two on and nobody out in the final inning to give the T-Bones the 9-7 win.

The homer, which came just a week after manager Kenny Hook called Padgett "the best hitter in the league," gave Kansas City its sixth win over the Lemurs in 11 games this season. It was the first walk-off for the T-Bones since Kala Ka'aihue singled home a run in the ninth against Santo Luis of the Lincoln Saltdogs on August 14, 2011. For Padgett, the gap was much larger.

"The last walk-off I had was my first year in professional baseball," he recalled after the game.

That was 1998, with the Utica Blue Sox of the New York-Penn League.

"It's been a long time in between, but you never forget that feeling," he said. "It was awesome."

Padgett smacked the game-winner Tuesday night off of reliever Mark Haynes with a full count and no outs. It sailed over the right-field wall, bringing home Kennard Jones and Jairo Perez for the win.

"You can't say enough about [Padgett] and how clutch he's been for us all year," said Hook in the clubhouse afterward. "We're accustomed to seeing him do big things for us, and that just shows you the type of hitter he is."­

The home run put Padgett in a tie for the league lead in homers with Sioux Falls' Tim Pahuta. Padgett leads the league outright in on-base percentage (.467), slugging percentage (.712; next closest is .602), extra base hits (50; next closest is 40) and total bases (178; next closest is 157). He also ranks second in RBIs (61), fifth in hits (89) and third in average (.356).