News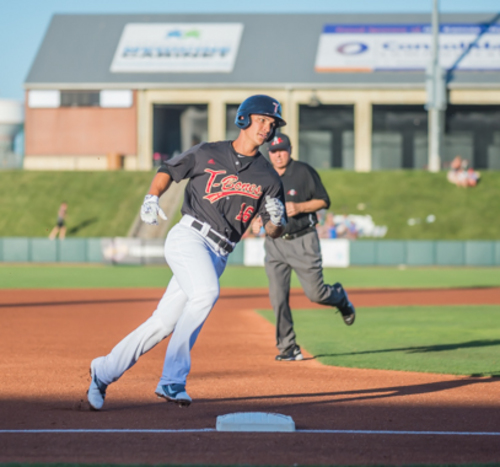 06/06/2017 11:50 PM
-
KANSAS CITY, Kan. – The Kansas City T-Bones won 7-6 in a five-hour matchup with the Wichita Wingnuts Tuesday night at CommunityAmerica ballpark.
Second baseman, Zach Walters, started things off for Kansas City with a two-run home run off of right-handed pitcher Jordan Cooper in the bottom of the first inning. Cooper had previously led the American Association with an ERA of 0.00.
While the Wingnuts continued to struggle to make it around the diamond, the T-Bones extended their lead to 3-0 with a solo home run by catcher Leo Vargas.
The home run leader for the American Association added to the series of home runs on Tuesday night. Designated hitter, Kevin Keyes, hit a solo home run, increasing the T-Bones lead to four and giving him his seventh home run of the season.
The Wingnuts remained scoreless through five innings as the T-Bones kept bringing in runs. Shortstop, Eddie Newton, doubled to right and was brought home by Keyes with a RBI single to keep a strong 5-0 lead.
Wichita was finally able to get on the board in the top of the seventh with an RBI single by designated hitter, Brent Clevlen to make the score 5-1. The Wingnuts brought the game to within two runs, 5-3, with a two-run RBI single from the American Association RBI leader, first baseman Matt Chavez.
Chavez brought in another run in the top of the ninth with a single RBI to put the Wingnuts within one. Leftfielder Brennen Salgado followed with his own RBI single to tie the game at five, heading into the bottom of the ninth.
The T-Bones couldn't create an offense to finish the game in regulation, and the game stayed tied at five until the eleventh.
Third baseman TJ Mittelstaedt nailed a solo homerun to give the Wingnuts their first lead of the night, 6-5, going into the bottom of the eleventh, but Garcia wasn't ready for the game to end. He hit a sacrifice fly to tie it back up for the T-Bones at six runs going into the twelfth.
Patrick Brady put the 14 inning game to a close with an RBI single, scoring Keyes to give the T-Bones the 7-6 victory over the Wichita Wingnuts.
"The guys just battled. There's nothing else to say. We had so many opportunities that came short and we just kept on battling," manager Joe Calfapietra said. "Winning this series means a lot, you're gaining momentum and you're getting over .500."
The T-Bones will play their final game of a three game series against Wichita Wednesday morning at 11:05 a.m.
For additional information or interview requests, members of the media may contact the T-Bones Media Relations Department at 913-328-5639. Tickets are available online, by calling (913) 328-5618 or by visiting in person the Providence Medical Center Box Office.
-- T-Bones --