News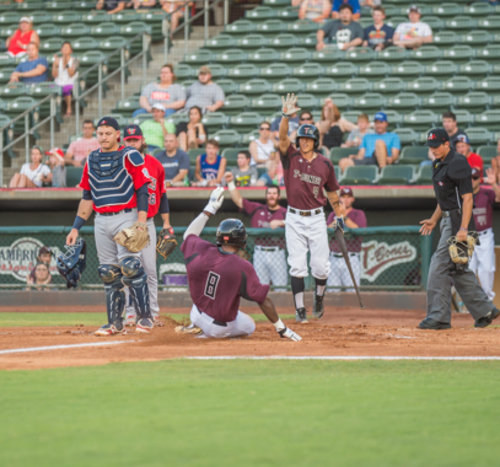 07/21/2017 9:39 PM
-
KANSAS CITY, Kan. – The Kansas City T-Bones topped the Winnipeg Goldeyes 12-3 thanks to a 10-run second inning on Friday night at CommunityAmerica Ballpark.
An exciting second inning was kicked off by Winnipeg's shortstop, Andrew Sohn, who doubled to bring in the first run of the game. The T-Bones didn't let the Goldeyes enjoy their lead for long though, scoring 10 runs in the bottom of the second to take control for the remainder of the game.
Kansas City's 10 run inning began with an RBI double from third baseman, Jordan Edgerton, scoring newly signed center fielder, Cedric Hunter. Right fielder, Chantz Mack, added an RBI double of his own to bring in Edgerton and a single from the T-Bones' second baseman, Marcus Lemon, scored a third run.
Kevin Keyes, launched a three-run home run to climb back to the top of the American Association home run leaderboard. Keyes is tied with Chris Jacobs of Sioux Falls at 16 home runs a piece after his home run tonight. The designated hitter put the T-Bones at a comfortable 6-1 lead, but that still wasn't the end for hot-hitting Kansas City.
Hunter added his first hit with the T-Bones organization to bring in another run. Shortstop, Jerome Pena, capped off the inning with a three-run home run, the second of the inning, putting Kansas City up 10-1 going into the third.
The T-Bones' third home run of the night occurred in the sixth inning. Left fielder, Tyler Horan, struck a home run to bring in Keyes extending Kansas City's lead to 11.
Winnipeg continued the attempt at narrowing their deficit and cut the T-Bones' lead to nine in the seventh, but wouldn't be able to come back any further.
First baseman, Shawn Pleffner's RBI double accounted for the first run and an RBI single from designated hitter, David Bergin, would bring in Winnipeg's third run of the game.
Right-handed pitcher, Gabe Perez (6-3, 5.09), tossed the win and right-handed pitcher, Mikey O'Brien (6-4, 5.40), suffered the loss. Kansas City's Zach Morgenstern (2-0, 6.00), a right-handed pitcher, clinched the save.
The Goldeyes' right-handed pitcher, Edwin Carl (6-1, 3.89), will take the mound tomorrow night with right-handed pitcher, Chris Perry (2-2, 5.18), pitching for the T-Bones.
The T-Bones (33-25) will continue their 10 game homestand tomorrow night against the Winnipeg Goldeyes (34-25) at 7:05 p.m. at CommunityAmerica Ballpark. Fans can come out to enjoy a fireworks display after the game.
For additional information or interview requests, members of the media may contact the T-Bones Media Relations Department at 913-328-5639. Tickets are available online, by calling (913) 328-5618 or by visiting in person the Providence Medical Center Box Office.
-- T-Bones --