News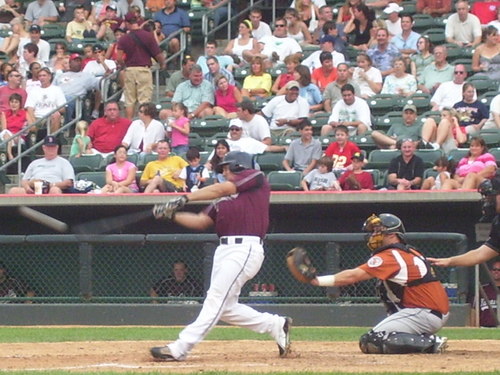 08/14/2007 9:51 PM
-
KANSAS CITY, Kan. – The Kansas City T-Bones dropped the first game of a three-game set versus the Gary SouthShore RailCats tonight 9-7 in front of 5,616 fans at CommunityAmerica Ballpark.
The T-Bones took a quick 2-0 lead in the first inning off Gary starter Travis Kerber when a double from Calvin Pickering scored Al Benjamin and Rob Watson (pictured). Kansas City scored three more in the second on an RBI double by Watson, a wild pitch and an RBI single from Mario Delgado, giving them a 5-0 lead after two innings. Kerber allowed six runs, four earned, on 10 hits in five innings in a victory, improving to 6-5 on the season.
Gary battled back in the top of the third, scoring six runs on six hits off Chris Krawczyk. An RBI single by Steve Haake and an RBI double from Eric Blakeley plated the first two before a grand slam from Dave Detienne capped off the scoring and gave the RailCats a 6-5 advantage. Krawczyk left after five innings, allowing seven runs on 10 hits in a loss.
The T-Bones tied the game in the fourth on an RBI double by Rob Watson before Gary retook the lead in the fifth on a sacrifice fly by Jermaine Allensworth. The RailCats used Allensworth's speed to add an insurance run in the eighth when the veteran outfielder singled off reliever Sean Kramer, then stole second and third before scoring on a wild pitch to put Gary up 8-6.
Gary scored one more in the ninth off Travis Schlichting on an RBI single by Tanner Townsend to finish the scoring. Tony Cogan allowed one run on two hits in the ninth to earn his 16th save of the season. Raymond Jenkins threw two perfect innings of relief for the T-Bones.
Rob Watson went three-for-five with three doubles and two RBI and Calvin Pickering went three-for-four with a double and two RBI for Kansas City. Dave Detienne led the RailCats with a two-for-four night, driving in four in the contest.
Game Notes: Rob Watson doubled in the second inning to extend his on-base streak at home to 38 games, or every game played at CommunityAmerica Ballpark this season…Calvin Pickering doubled in the first to extend his on-base streak to 27 games…Every RailCat starter collected a hit in the contest, four of whom had multi-hit games…Five T-Bones posted multi-hit games, three of whom collected three hits a piece: Watson, Delgado and Pickering…Watson tied a T-Bones franchise record for doubles in a game, posted twice previously by Eddie Pearson in 2004 and Chad Sosebee in 2005.