News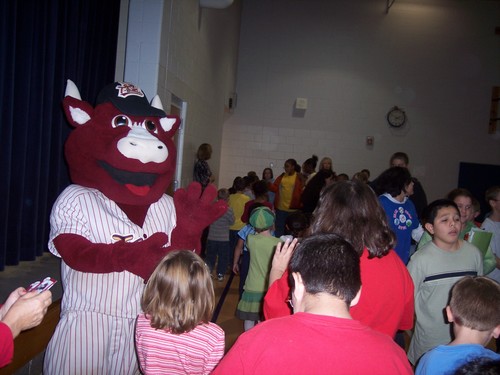 08/21/2007 10:26 AM
-
KANSAS CITY, Kan. - The T-Bones are again partnering with Providence Medical Center and Saint John Hospital for the 2007-2008 Reading Program. The start of the program coincides with the beginning of the '07-'08 school year.
The program is aimed at school children in Wyandotte County and surrounding KC Metro areas. It encourages children to increase the number of minutes they read each school year. For every 500 minutes read, each child will receive a T-Bones related prize. The top prize, for children reading 2000 minutes or more, is 2 tickets to a 2008 T-Bones game.
"The T-Bones organization provided the students with a positive reinforcement for the students' consistent hard work each month to reach their reading goals," said Julie Fox, LMS at Ravenwood Elementary School.
"The students were very excited to start the program and they especially enjoyed Sizzle making a special appearance to kick off our reading celebration. Approximately 98% of our students received at least one prize and 85% received tickets to a T-Bones game."
Students can sign up individually or as an entire class. They can register at school, public libraries, Providence Medical Center, Saint John Hospital or – starting September 1 – online at www.tbonesbaseball.com.
"We had over 5000 students participate in the program last year," said Reading Program Coordinator Janet Lindsay . "It's great to see the commitment from the kids. This year we're hoping to go over 7500 students."
T-Bones mascot Sizzle will make several stops to participating classes throughout the school year to motivate students to keep reading.
"We support and salute the efforts of the T-Bones in making reading a priority for children," said Mike Dorsey, Providence/Saint John President/CEO. " Reading is a great opportunity to bond with children as well as to increase their vocabulary—which triggers their imagination and exposes them to new experiences and concepts. In addition, this program, ultimately, helps foster an appreciation for books."
The program runs from now until March 31, 2008.