News
03/22/2011 8:54 AM
-
Justin James, who last season became the first player in Northern League history to go from the independent leagues to the major leagues in the same season, continues to fight for a spot in the Milwaukee Brewers bullpen.
James, 29, was claimed off waivers by the Milwaukee Brewers from the Oakland Athletics this winter. He has made eight appearances with Milwaukee this spring, allowing just seven hits while striking out eight and walking two in eight and two-thirds innings of work. James has allowed runs in just two of those eight outings, seven of which have spanned at least one inning.
James originally joined the T-Bones in 2009, splitting time as a starter and reliever that season before returning to Kansas City last year as the team's closer. After posting six saves and holding opposing hitters to a .205 average in 11 appearances with the T-Bones in 2010, the Oakland Athletics purchased the right-hander's contract on June 18 and sent him to the Double-A Midland RockHounds. James allowed just 11 hits while striking out 21 and walking only seven batters in 19 and two-thirds innings with Midland before earning a promotion to the Triple-A Sacramento RiverCats. After surrendering only 14 hits while striking out 28 and walking nine in an equal amount of innings in Sacramento, James was called up to Oakland on September 1.
In his major league debut at Yankee Stadium on September 2, James allowed one run on three hits while striking out two in an inning of work. James struck out the first batter he faced as a major leaguer, Robinson Cano, and later added a strikeout of future Hall of Famer Derek Jeter to end the frame.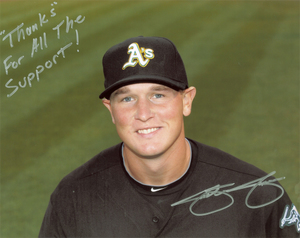 James appeared in five games with Oakland in 2010, striking out five batters in his four-plus innings of work.

The T-Bones staff and his former teammates look forward to following his progress and wish Justin the best of luck!