News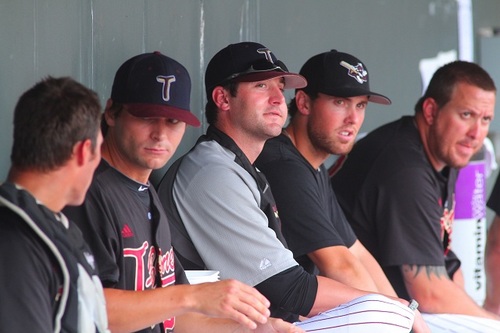 07/16/2012 7:15 AM
-
This installment of "10 Questions" features one of the new coaches in 2012, pitching coach Andy Shipman, who was on the mound for the T-Bones as a player a year ago. Shipman, whose dad was in the Air Force, actually pitched for the T-Bones during the 2008, '09 and '11 seasons. Before that, Shipman reached as high as Triple-A in the Chicago Cubs' system in 2006. In many ways, the fact that Shipman even played professionally – as a pitcher, no less – is incredible. When he was about 18 months old, Shipman pulled a fish tank off of its stand. When it hit the ground, it shattered and part of the glass went into Shipman's left eye. He's had a glass eye since then. Nonetheless, Shipman played nine years of professional baseball and finished with a better than 2:1 strikeout to walk ratio, with 444 strikeouts and 194 walks.

1. My hero growing up was…
Andy Shipman: Ken Griffey Jr.

2. My dream job was…
AS: I wanted to fly fighter jets in the Air Force. I found out when I was 10, though, that I couldn't because of my eye.

3. My favorite movie of all-time…
AS: That's a tough one, but I probably need to go with the "Count of Monte Cristo" and "Oceans Eleven."

4. My favorite TV show is…
AS: NCIS

5. My favorite band or musician is…
AS: Another tough one because I have favorites for different types of music, but I'd say my overall favorite would be the Foo Fighters.

6. My favorite type of food is…
AS: Anything that my mom cooks.

7. The thing I like most about Kansas City is…
AS: The people and the food.

8. My favorite sports team is…
AS: Without a doubt, the Green Bay Packers. Right behind them, though, would be the Wisconsin Badgers.

9. My message to parents of young athletes…
AS: Make sure your kids are playing because they love it, not because you love it.

10. The one person in history I'd love to meet is…
AS: Vince Lombardi.