News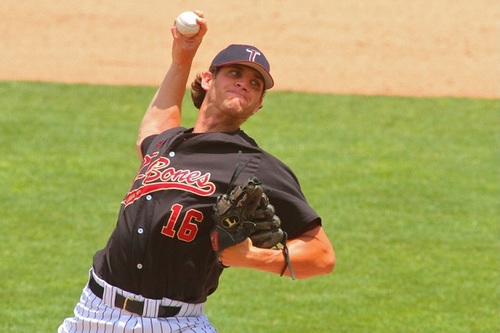 07/16/2012 11:27 AM
-
By Ashley Dunkak
tbonesbaseball.com

T-Bones manager Kenny Hook said he expected between seven and 10 strikeouts from Lucas Irvine in his debut as a starter at CommunityAmerica Ballpark on July 5. Irvine threw nine, a team high this season, but not a number that came as any surprise to Hook.

"I'm kind of used to it," Hook admitted. "It might be new for the fans or for our team, but Luke is my type of guy. I love that he attacks the zone with his fastball. When he's on, hitting his spots, he can be tough."

Hook has good reason to be confident in Irvine, besides the fact the righty was touching 93 miles per hour during the sixth inning of his second start – when he pitched at Lincoln on June 30 and allowed two runs on six hits while striking out eight – and besides his 2.76 ERA through 20 games, including four as a starter.

"I have a lot of history with Luke, have known him since his first day in college and seen the transformation of him," Hook said. "When you have that type of velocity and you have the breaking pitch to go with it, you're going to get strikeouts because guys have to cheat a little bit, and they're going to get some swinging misses on breaking pitches. When he's in and out and staying out on the middle of the plate, his fastball can be explosive. He's going to be sitting around 90, maybe 92 at times. When the ball is coming that fast, hitters have to cheat, and when they cheat, they're susceptible to swing-and-misses on the breaking ball."

Irvine and Hook have known each other since their time at Maple Woods Community College, when Hook was a hitting coach and Irvine was a starting pitcher. Hook would later recommend Irvine to play at Northwest Louisiana State University, prescribing a good fit between the player and the school, and it turned out Hook was right.

When Irvine got released by the Tampa Bay Rays during spring training this year, after playing for the Princeton Rays – Tampa's rookie affiliate – in 2011, he called Hook looking for somewhere to play. The T-Bones had a spot for him.

"We always seem to be on the same page, whether we're miles apart or on the same team," Irvine said. "We've got along since day one, and it's been a great relationship. I'm glad he's here and I had a chance to play here and for all the opportunities he's given me. I owe him a lot."

A native of Liberty, Mo., playing for the T-Bones has given Irvine a chance to get back home, something that has been a long time coming between two years of college in Louisiana, 20 games in West Virginia and time in Tampa as well.

"I've been waiting for it for awhile," Irvine said. "I've been away from home a lot, so it's nice to play in front of Mom and family and friends and stuff."

Irvine was a starter in high school and in college, but after he signed with the Rays, the club moved him to the bullpen. He hated it at first, but he learned how to pitch in relief, and he found a niche in that zone with the T-Bones this season. Eventually, though, an opportunity came for him to step back into a starting role.

Kansas City had a chance to acquire former Major League infielder Enrique Cruz from fellow American Association team El Paso, but since teams are limited to four veterans – players with seven or more years of professional baseball experience – getting Cruz would require trading another experienced player. As a reliever with a past as a starter, Irvine could enter the rotation if Kansas City decided to deal a veteran pitcher to get Cruz, and the T-Bones would get the benefit of Irvine returning to the position at which he has the most experience.

"(Irvine) has the type of stuff that is a little more conducive to starting," Hook said. "As a reliever he wasn't able to use his breaking ball. He was more of a two-pitch kind of guy. So knowing that Luke could fill that starting role made it a little easier for us to consider dealing Nick Singleton to free up that veteran spot to get Cruz. In Luke, we had a guy in the bullpen that could start for us. I have the utmost confidence in him. I knew that he would fill right in where Singleton left off, if we were to deal Singleton. I think it's worked out perfect."

Before turning professional in 2011, after being drafted by the Rays, Irvine was drafted through scout Warren Hughes and the Chicago White Sox in 2010.

"It was one of those things where I kind of had a plan going into it, and things didn't quite work out, but everything happens for a reason," Irvine said. "I had a good time in Tampa and learned a lot, so I'm trying to get back into affiliated, so hopefully the White Sox call back."

With the way Irvine has been pitching in his role as a starter, there's a good chance that "hopefully" could turn into reality.

Note: Irvine is scheduled to start for the T-Bones on Monday night against Sioux City.