News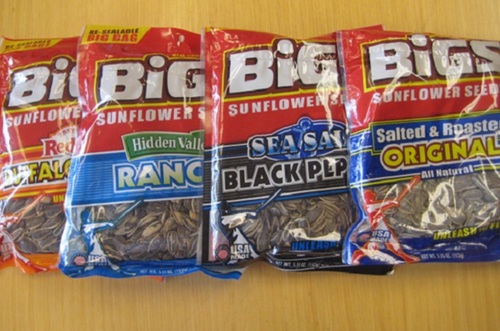 03/15/2013 11:04 AM
-
The Kansas City T-Bones and THANASI Foods have announced that BIGS Sunflower Seeds will be the "official sunflower seeds" for the T-Bones during the 2013 season.

As part of the agreement, BIGS Sunflower Seeds will be in the T-Bones dugout and the sunflower seeds will be available at the concession stands at CommunityAmerica Ballpark. BIGS come in seven flavors: Salted & Roasted Original, Vlasic Dill Pickle, Frank's Red Hot Buffalo Wing, Bacon Salt Sizzlin' Bacon, Hidden Valley Ranch, and Sea Salt & Black Pepper.

"We are excited to have BIGS Sunflower Seeds as a part of the T-Bones," said Ryan Stos, T-Bones Sales Executive. "Our fans are going to have access to a delicious product that offers a lot of variety through their flavors. It's a perfect partnership – baseball & sunflower seeds!"

"BIGS is proud to be signed on as the official seed of the T-Bones this year," said Logan Soraci, the Associate Brand Manager for THANASI Foods. "It's great to be partnered with such a well-run organization with such a deep following. We look forward to working together this season and many to come."

During the season, the BIGS Nation Tour vehicle and hospitality tent will visit CommunityAmerica Ballpark (date TBD). Additionally, the T-Bones staff will be handing out exit samples of BIGS Sunflower Seeds after five games: May 24, June 22, July 5, July 26 and Aug. 30.

The T-Bones open their home regular season on Sat., May 18, against Wichita. A special pre-sale on Opening Day tickets will begin on March 18 at 10 a.m. Single-game tickets for the rest of the 2013 season will go on sale on March 26 at 10 a.m. to Wyandotte County residents and March 28 at 10 a.m. to the general public. Season ticket packages and mini-plans are available now by calling 913-328-5618.