News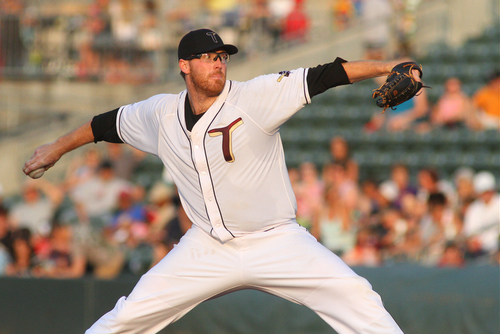 07/05/2013 9:36 PM
-
In a back-and-forth battle between Kansas City and Sioux Falls, the Canaries' big ninth inning resulted in a 6-4 T-Bones loss in front of 5,613 at CommunityAmerica Ballpark on Friday night.
After Sioux Falls got on the board in the fourth against T-Bones starter Connor Graham — who was making his Kansas City debut —Matt Padgett hit an opposite-field homer that tied the score. It was Padgett's team-leading 13th home run.
Both teams added a run in the fifth, but Kansas City's had the momentum. The T-Bones scored two in the sixth, which included a home run from Devin Goodwin and a triple from Felix Molina, who then scored on a wild pitch from Canaries starter Kyle Ruwe (5-5).
Tied with four heading into the ninth, Sioux Falls' Nate Baumann homered into the visiting bullpen. Four batters later, a Nick Van Stratten RBI scored Stephen King.
Despite four wild pitches from the Canaries pitching staff, Sioux Falls retired eight of the last nine Kansas City batters in the game with five strikeouts and a double play.
Leaving after 6 1/3 innings, Graham, who didn't get a decision, gave up four runs on four hits — three earned with three strikeouts.
Kansas City (17-30) departs for a six-game road trip beginning with a four-game series with the St. Paul Saints on Saturday night.