News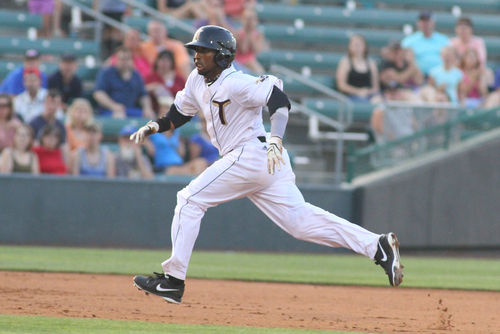 07/17/2013 8:15 PM
-
Kennard Jones' 3 Keys to Stealing a Base

1. Get a good jump. You have to get a solid lead when you get off the base. Usually, it comes down to times – how the pitcher throws to the plate, how the catcher throws to the base. If a pitcher takes between 1.3 and 1.5 seconds to throw to the plate, that's a sign for me and other guys that it's a good chance to steal a base. I try to go on a breaking ball count and give myself some extra time to get there.

2. Just go. When I'm running to the base, all I'm thinking is "just get there… don't get beat by the ball." As soon as I see the pitcher lift his leg up, my eyes go from the pitcher to the bag, that way I go in a straight line. If you keep your eyes on the pitcher instead of the bag, you might veer left or right and it might mess up your timing as well. When you're stealing a bag, you want to be as perfect as you can.

3. Get dirty. You never want to steal a base standing up. If you think you got a good enough jump, you can slide straight into the bag. If you got a late jump, maybe you get crafty around the base to miss the tag if you get there the same time the ball gets there. You have to be heads up… if there's a passed ball you want to try to get to the next base.
As told to Danny Jones of tbonesbaseball.com.