News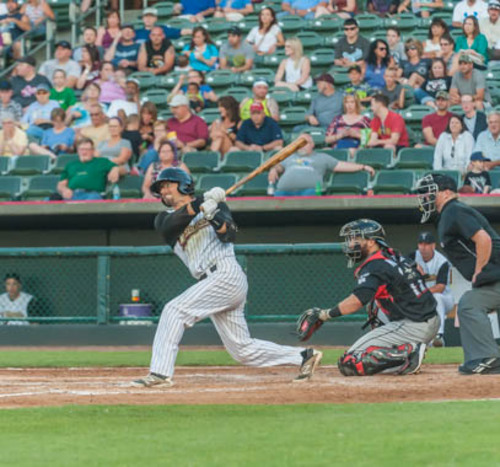 06/19/2015 9:00 PM
-
KANSAS CITY, Kan. – Behind a strong pitching performance by Blake Holovach and timely hitting, the Kansas City T-Bones beat the Wichita Wingnuts, 6-3, in front of 6,881 in their series opener Friday night at CommunityAmerica Ballpark.
The T-Bones struck first in the bottom of the third inning when Vladimir Frias blasted a solo home run off Wichita starter Anthony Capra (2-3) over the left field wall. With that home run, which gave Kansas City a 1-0 lead, Frias now leads all T-Bones batters with five on the season.
Kansas City added to its lead in the bottom of the fourth. After Frias picked up his second RBI of the night on a sacrifice fly to right with the bases loaded, Brian Erie walked, loading the bases with two outs for Ryan Cavan. Cavan, who had eight hits during Kansas City's recent four-game road trip, roped a bases-clearing double down the left field line, picking up three RBIs and giving the T-Bones a 5-1 lead.
The Wingnuts mounted somewhat of a comeback in the top of the eighth inning. After a Joash Brodin single, former T-Bone T.J. Mittelstaedt found the umbrellas beyond the left field wall for a two-run home run that cut the lead to 6-3. Mittelstaedt, who reached base in all 51 home games for Kansas City in 2014, now has been on base in 52 consecutive games at CommunityAmerica Ballpark.
T-Bones starter Blake Holovach (2-0), a Kansas City area native, scattered five hits and one run in 7 strong innings. Holovach struck out two and walked four, while dropping his ERA to 1.39. Closer Kris Regas picked up the save on eight pitches, his second of the season.
The T-Bones and Wingnuts are scheduled to continue their series at 7:05 Saturday night. Tickets are available by calling the Providence Medical Center Box Office at CommunityAmerica Ballpark at 913-328-5618.