News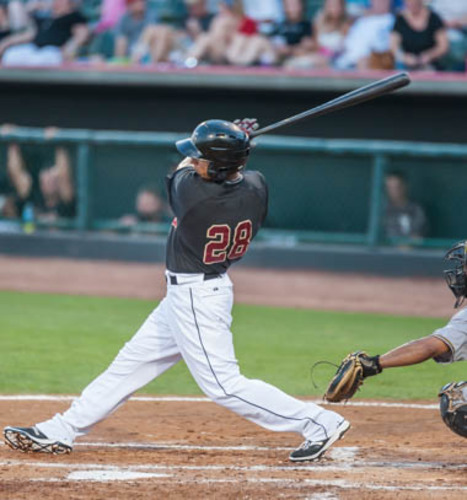 08/07/2015 9:40 PM
-
KANSAS CITY, Kan.— The Kansas City T-Bones and Joplin Blasters were neck and neck all night in their last game of a five-game series, but the Blasters took the series with a 5-3 win in 10 innings in front of 5,738 Friday at CommunityAmerica Ballpark.
Kansas City starting pitcher Bobby Doran didn't allow a hit through the first three innings, but that ended in the fourth on a single by Maikol Gonzalez. The next batter, Jairo Perez, launched a home run over the left field wall, making it a 2-0 game.
The T-Bones fought back that same inning. One batter after Nate Tenbrink singled, Adam Bailey, who has five home runs in the past 10 games, blasted another one over the left field wall, tying it 2-2.
Joplin took the lead again in the fifth, after Omar Luna, who singled to left and eventually went to third on a fielder's choice by Joe Coyne, scored on a single by Oscar Mesa.
Kansas City came back and tied the game in the bottom of the fifth when Robby Kuzdale hit a two-out single to left that scored Alex Marquez, who had doubled to the left-field corner, and tied the game at 3-3.
The game stayed quiet until the 10th inning, when an error from Kansas City first baseman Kyle Robinson put Joplin's Steven Tinoco on first. Gonzalez followed with a double to center, scoring Tinoco. Perez finished it off when he singled to left center and scored Gonzalez, which gave the Blasters the final 5-3 lead.
Fernando Hernandez (3-5) took the loss after allowing three hits, two runs, one of which was earned, along with two strikeouts in 3 innings pitched.
The loss gives Joplin the series win, three games to two, and now puts the T-Bones and Blasters in a tie in the wild-card race.
The T-Bones (38-30) will play host to the Fargo-Moorhead RedHawks (23-48) for a three-game series starting Saturday night at . Tickets are available by calling the Providence Medical Center Box Office at CommunityAmerica Ballpark at 913-328-5618.