News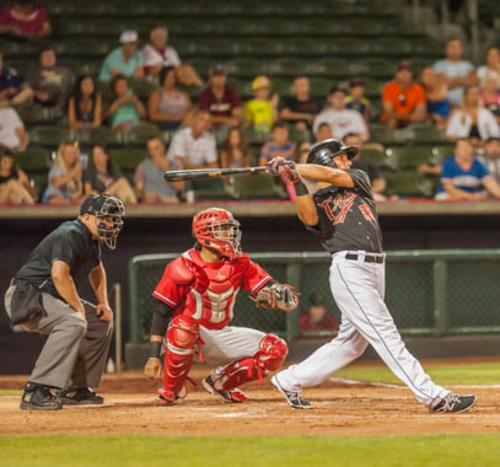 08/10/2015 9:46 PM
-
KANSAS CITY, Kan. –After a rough loss Sunday night, the Kansas City T-Bones lost the final game of a three-game series, 5-3, against the Fargo-Moorhead RedHawks in 11 innings Monday night at CommunityAmerica Ballpark.
Fargo steadily tacked three runs to the board over six innings. Kansas City's offense, which was being stymied by Fargo starter Tyler Alexander for 5 2/3 innings, answered in the bottom of the sixth. With two outs in the inning, Nate Tenbrink walked, and then advanced to third on Jake Blackwood's double to deep left. The next batter, Adam Bailey, launched a three-run home run to right field that tied the game, 3-3.
It remained tied until the top of the 11th. Playing with the International Tiebreaker Rule, which has a runner at second at the start of an inning, the RedHawks scored two runs in the top of the 11th. Joe Dunigan, who was the runner at second, scored on a throwing error by Kansas City second baseman Brent Peterson, who was trying to get a force at second on a grounder by Charlie Valerio. Fargo added its second run when, on a double play attempt, Peterson made a wild throw that went by Kansas City first baseman Jake Blackwood and allowed Taylor Oldham to score from second base.
In the bottom of the 11th, the T-Bones had runners at the corners with one out, but Brian Erie struck out and Peterson flied out, ending the game.
Fargo got on the board first in the second inning on a solo home run by Dunigan against T-Bones starter Dustin Loggins. The second and third of Fargo's runs came as Zach Penprase, who walked, scored on a fielder's choice in the fifth, and Dunigan scored on Valerio's ground out to shortstop in the sixth.
Loggins allowed three runs on five hits, including a home run, and walked three, while striking out three in 5 innings pitched.
Alexander went 8 2/3 innings for Fargo, allowing three runs on five hits, walking one and striking out 10. He threw 143 pitches.
With the loss, and after losing three-of-five games against Joplin, the T-Bones have lost consecutive series for the first time since early June. Those losses came during a 10-game losing streak.
The T-Bones (39-32) are scheduled to begin a seven-game road trip beginning Tuesday at Lincoln (28-45). All of the action can be heard on 1660-AM in Kansas City or online at tbonesbaseball.com. The T-Bones will return to CommunityAmerica Ballpark on August 18. Tickets are available by calling the Providence Medical Center Box Office at CommunityAmerica Ballpark at 913-328-5618.