News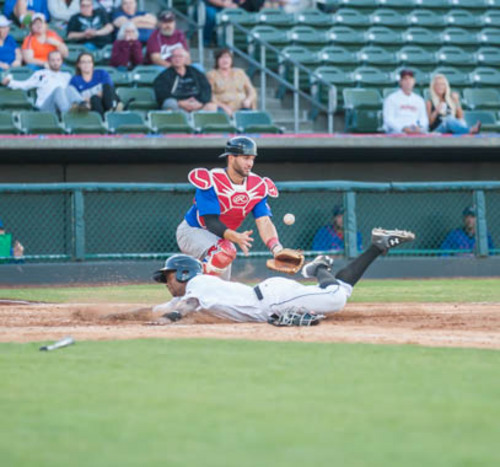 08/19/2015 9:10 PM
-
KANSAS CITY, Kan. – The Kansas City T-Bones saw their losing streak hit six games as the Amarillo Thunderheads swept them, 7-5 and 7-4, Wednesday at CommunityAmerica Ballpark.

The T-Bones fell behind early in the nightcap. Amarillo scored the first run of the game in the second inning on a rare error. With Dexter Kjerstad on first, Corey Bass grounded into a fielder's choice. T-Bones shortstop Vladimir Frias made a throwing error that allowed Kjerstad to score and gave Amarillo a 1-0 lead. The error was Frias' sixth in 57 games this season.

After Amarillo scored two more runs in the third inning that expanded their lead to 3-0 against Kansas City starter Drew Gay, the Thunderheads pulled away from the T-Bones in the fourth inning. Amarillo scored two more runs, thanks in large part to three consecutive doubles by Bass, Logan Vick and Geraldo Valentin that gave the Thunderheads a convincing 5-0 lead. Gay (1-3) struggled in his outing, giving up 10 hits and four earned runs in 3 1/3 innings.

The T-Bones scored their first run of the game in the bottom of the fourth inning when Nate Tenbrink blasted a home run to the top of the berm in right field. After the Thunderheads expanded their lead to 7-1 in the top of the fifth, Tenbrink hit his second homer of the game to right in the sixth.

Kansas City added its final two runs in the seventh inning behind a two-run double from Starlin Rodriguez that scored Brian Erie and Sergio Leon that cut the Thunderheads lead to 7-4.

In game one, which went two extra frames, T-Bones starting pitcher Kris Regas struggled, giving up five earned runs on six hits and two wild pitches, as he went only 2 innings. The Thunderheads struck first in the first on one of those wild pitches. After Juan Martinez reached base on a fielder's choice, he scored off Regas' first wild pitch, giving the Thunderheads a 1-0 lead.

As they did in the second game, the T-Bones scored late. Trailing 5-3, Kansas City scored two runs in the bottom of the seventh. After a scoreless eighth, Amarillo pulled away in the top of the ninth by scoring three runs. After a home run by Christian Ibarra earlier in the inning, the Thunderheads scored another run on an error by Brent Peterson, that allowed Jordan Guida to score and gave Amarillo a 7-5 lead.

With the sweep, the T-Bones have lost six in a row, their second longest losing streak of the season, since dropping 10 straight in late May and early June.

The T-Bones (41-39) and Thunderheads (37-45) will finish their three-game series Thursday night with the first pitch at 7:05. Tickets are available by calling the Providence Medical Center Box Office at CommunityAmerica Ballpark at 913-328-5618.