News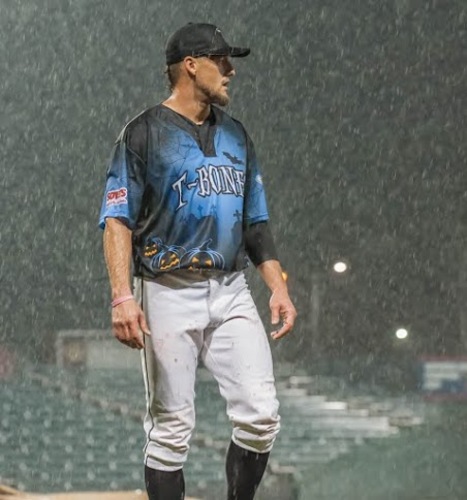 08/28/2015 10:45 PM
-
KANSAS CITY, Kan. – It took only two swings, but those two swings were the difference in the game as St. Paul defeated Kansas City, 2-1, Friday night at CommunityAmerica Ballpark.

Vinny DiFazio put St. Paul on the board first with a lead-off home run in the fourth against Kansas City starter Kris Regas. Then, with the bases empty and two outs in the fifth, Dan Kaczrowski hit a solo homer against Regas that gave the Saints a 2-0 lead.

The T-Bones cut St. Paul's lead in half in the fifth inning. After Saints starter Kramer Sneed walked Vladimir Frias, gave up a hit to Brian Erie and then hit Sergio Leon with a pitch with one out, Starlin Rodriguez launched a deep fly ball to center that scored Frias. That was the only run Kansas City could score against Sneed, one of the top pitchers in the American Association.

The T-Bones had their chances, though, against Sneed (14-3). In the fourth inning, trailing 1-0, Nate Tenbrink led off the inning with a walk. The next batter, Jake Blackwood, sent a double to the gap, but Tenbrink was thrown out trying to score from first. In the sixth inning, down 2-1, Adam Bailey was at third base when Kyle Robinson grounded the ball to St. Paul shortstop Anthony Phillips. Bailey, who was running on contact, was thrown out at home. Sneed scattered five hits and two walks over 6 innings in the win.

In spite of the two home runs, Regas (6-4) gave Kansas City 6 2/3 strong innings. He gave up five hits and walked two, but struck out seven before his night was cut short in the top of the seventh. With two outs and a two-strike count on Alonzo Harris, the skies opened, causing a one hour, 13-minute rain delay, and ending the night for both starting pitchers.

The T-Bones (47-43) and Saints (66-25) are scheduled to continue their four-game series Saturday night at 7:05. Tickets are available by calling the Providence Medical Center Box Office at CommunityAmerica Ballpark at 913-328-5618.