News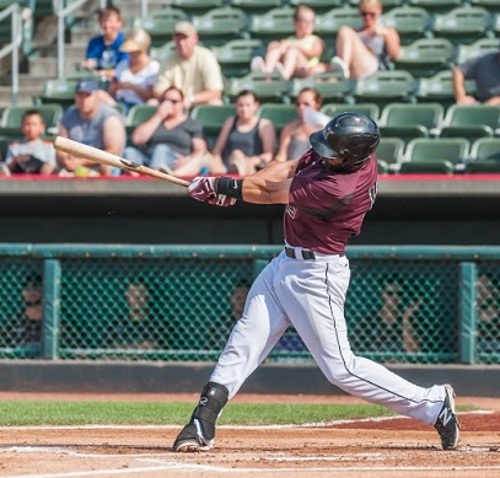 09/16/2015 3:03 PM
-
KANSAS CITY, Kan. – The Kansas City T-Bones and manager John Massarelli announced on Wednesday the club's top performers for 2015.

Nate Tenbrink (Most Valuable Player), Aaron Baker (Pitcher of the Year), Adam Bailey (Offensive Player of the Year) and Vladimir Frias (Defensive Player of the Year) were key components to the T-Bones finishing 49-50 and being in the wild-card race until the last week of the season in spite of starting the season 1-10.

Listed as a utility player, Tenbrink, an Olathe, Kan., native, played in 96 of Kansas City's 99 games. He batted a team-best .335 and was first in runs (67), hits (121), doubles (23), triples (5), walks (54) and on-base percentage (.418). Additionally, Tenbrink's 17 stolen bases were second on the club. Although he played 68 games at third base, Tenbrink saw action at first base, shortstop and outfield, also. On Aug. 31, Tenbrink, who played collegiately at Kansas State University, was selected as the American Association's Player of the Week.

"Nate was a plus-defender anywhere we put him and a consistent run-producer all season," said Massarelli. "He was a great example of leadership with his daily preparation."

Another Kansas City-area product, Baker was the most consistent T-Bones pitcher during 2015. Mainly used as the late-inning set-up man, Baker had the lowest ERA among Kansas City pitchers with at least 13 innings, at 2.95. In a team-high 42 appearances (58 innings), Baker, who's from Belton, Mo., was 4-5 with four saves. He finished with 46 strikeouts to 17 walks.

"He was a big anchor for us at the backend of the bullpen and the key to our successful rebound mid-season," Massarelli said of Baker.

Bailey, who makes his home in Overland Park, Kan., was the only T-Bones player who played in all 99 games. He led the team with 17 home runs (tied for third in the league), 73 RBIs and a .504 slugging percentage, and was third in average (.304) and hits (115). Making those numbers more impressive is Bailey's slow start in 2015. He was batting .167 on June 6 before turning things around. Once he reached .300 on July 13, he dipped under that mark only one time—Aug. 30 when he was at .299.

"Bailey was the run producer we envisioned having in the middle of our lineup this year," said Massarelli.

As a team, the T-Bones finished second in the American Association in defense with a .977 team fielding percentage. Besides making the routine plays, the team was featured on ESPN's SportsCenter three times for top plays. Frias, Kansas City's shortstop, accounted for two of those ESPN appearances. He had a .973 fielding percentage with 10 errors and a team-high 243 assists in 371 chances. This is the second consecutive season that Frias has been selected as the team's Defensive Player of the Year.

"Making SportsCenter twice says it all," Massarelli said.