News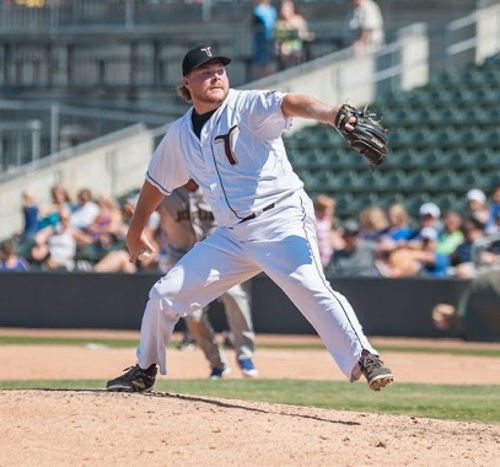 12/11/2015 9:35 AM
-
KANSAS CITY, Kan. – The Kansas City T-Bones announced they've re-signed their 2015 Pitcher of the Year, Aaron Baker, to a contract for the 2016 season.

Baker, 25 (12-14-89), is a 6-foot-3 and 220-pound right hander from Belton, Mo. Mainly used as the late-inning set-up man in 2015, Baker had the lowest ERA among Kansas City pitchers with at least 13 innings, at 2.95. In a team-high 42 appearances (58 innings), Baker was 4-5 with four saves. He finished with 46 strikeouts and 17 walks.

"Bake was one of the most reliable relievers in the league last summer, and we think he can only get better," said T-Bones manager John Massarelli. "We're planning to use him in the closer's role in 2016."

Baker, who went to the University of Central Missouri, started his professional career in 2013 with Gateway of the independent Frontier League, before the Philadelphia Phillies purchased his contract in 2014. He then played with three teams in the Phillies' organization, from the Gulf Coast Rookie League to high-A Clearwater, finishing with a 3-2 record and 4.89 ERA. In three professional seasons, Baker is 9-11 with a 4.01 ERA in 86 games. He's struck out 119 and walked 37.

Baker is the fourth player from the Kansas City area signed by the T-Bones for next season, joining veterans Jake Blackwood (Kansas City, Mo.) and Nate Tenbrink (Olathe, Kan.), and rookie Ryan Taylor (Olathe, Kan.).