News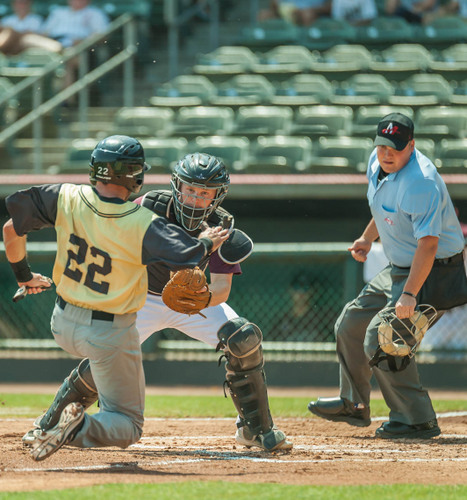 06/22/2016 2:06 PM
-
KANSAS CITY, Kan. — A home run in the top of the ninth by Joplin's Mitch Glasser proved to be the winning run as Joplin defeated Kansas City 5-4 Wednesday afternoon at CommunityAmerica Ballpark.
Entering the top of the ninth, the game was tied 4-4 before T-Bones relief pitcher Aaron Baker (1-1) gave up a solo home run to the first batter he faced, Glasser.
The T-Bones had tied the game a half-inning earlier. An error by Joplin second baseman Glasser on a pop up allowed Anthony Gallas to reach base. Following back-to-back singles by Dalton Wheat and Brandon Tierney, pinch-hitter Brett Wiley tied the game with a sacrifice fly that scored Gallas.
Even after surrendering the lead in the top of the ninth, Kansas City had a chance to tie the game and possibly win it in the bottom of the inning. Starlin Rodriguez led off the ninth with a single to left field and, two pitches later, stole second base. Vladimir Frias put down a perfect sacrifice bunt that moved Rodriguez to third. After Tyler Massey popped out to third baseman Geraldo Valentin, Joplin pitcher Victor Capellan (2-0) intentionally walked Jake Blackwood. With runners at the corners and two outs, Capellan struck out Gallas.
After a scoreless start, Joplin took a 3-0 lead in the third inning thanks to doubles by Edwin Gomez and Valentin, and singles by Axel Johnson and Glasser. Willie Cabrera added a one-out hit that scored Valentin.
T-Bones starting pitcher David Holman gave up nine hits and four runs in 5 1/3 innings. Joplin starter Noel Arguelles, a former Kansas City Royals prospect, gave up nine hits and struck out eight in 6 2/3 innings.
The T-Bones will look to win the series against Joplin Thursday night at CommunityAmerica Ballpark with the first pitch scheduled for 7:05 p.m. Tickets are available by calling the Providence Medical Center Box Office at CommunityAmerica Ballpark at 913-328-5618.