News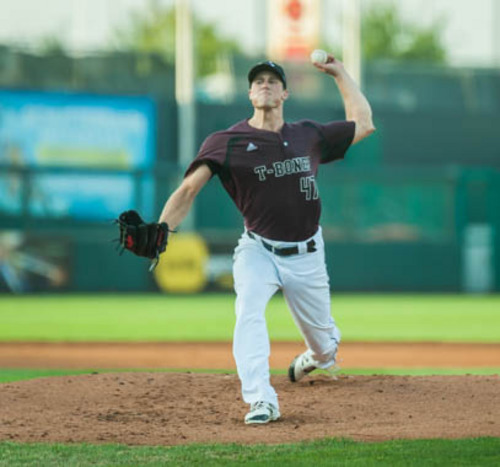 08/09/2016 8:50 PM
-
KANSAS CITY, Kan. – Mike Kickham threw eight shutout innings as the Kansas City T-Bones shut out the Lincoln Saltdogs, 8-0, Tuesday night at CommunityAmerica Ballpark.
After struggling in his last outing, Kickham (3-2) returned to dominance Tuesday night. He struck out nine batters, gave up seven hits and no walks in 8 innings.
Kansas City's offense helped Kickham with a six-run sixth inning in which 10 T-Bones went to the plate. With one out and the T-Bones leading 2-0 already, Tyson Gillies followed an Anthony Gallas single with a double to left field. Lincoln starting pitcher Graham Johnson (5-4) loaded the bases after intentionally walking Dalton Wheat. Johnson then walked Vladimir Frias on a full count, which scored Gallas. Tyler Moore added another run with a single to right field, scoring Gillies. After Tyler Massey struck out swinging, Jimmy Mojica added a two-run single that scored both Wheat and Frias. The next batter, Brett Wiley, topped off the inning with a two-run double that brought in Moore and Mojica, giving Kansas City the 8-0 lead.
The T-Bones took the early 2-0 lead after scoring runs in the third and fourth inning. With one out in the third, Frias bunted for an infield single before stealing second base. Massey recorded the RBI with a single to left field that scored Frias. Singles in the fourth by Blackwood and Gillies were followed by a fielders' choice from Wheat, scoring Blackwood.
Johnson gave up 10 hits, eight runs and three walks in 6 innings. Five hits and six runs came in the sixth inning.
Tuesday night's shut out in front of 4,016 fans was Kansas City's first since June 29th at Lincoln, where the T-Bones took a 2-0 victory.
Kansas City (32-42) will look to sweep Lincoln (40-34) Wednesday night at 7:05 p.m. at CommunityAmerica Ballpark. Tickets are available by calling the Providence Medical Center Box Office at CommunityAmerica Ballpark at 913-328-5618.
-- T-Bones --