News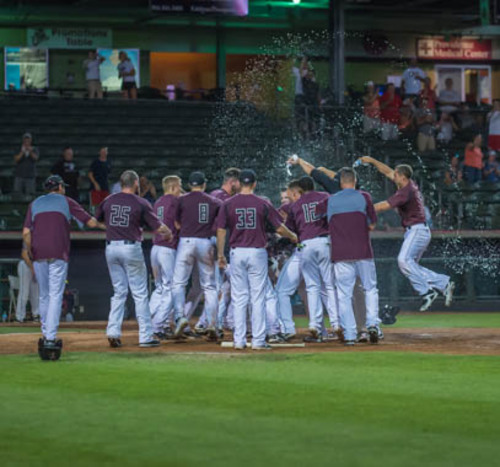 08/10/2016 9:35 PM
-
KANSAS CITY, Kan. – A walk-off homerun by Tyson Gillies in the ninth inning lifted the Kansas City T-Bones over the Lincoln Saltdogs, 4-3, Wednesday night at CommunityAmerica Ballpark.
Kansas City tied the game in the bottom of the eighth, overcoming a 3-0 deficit. Vladimir Frias led off the inning with a single off reliever Stephen Shackleford. Shackleford then sandwiched a walk to Tyler Massey with strikeouts to Steve Swingle and Jimmy Mojica. With two outs and runners at first and second, Brett Wiley singled to center field, scoring Frias and advancing Massey to third. Jake Blackwood roped an opposite field single to right field that scored Massey from third and Wiley from first, and tied the game at 3-3.
After Kansas City closer Mark Haynes (3-1) worked around a bases loaded jam in the top of the ninth, Gillies jumped on the second pitch he saw from Lincoln closer Evan Reed, and launched it to right center for his first home run since July 26. It was also the first home run given up by Reed this season in 31 innings.
With the win, the T-Bones have their first three-game winning streak of the season, and their first sweep since Aug. 24-26 of last season.
Rene Leveret gave Lincoln its first lead of the series with a solo homer in the second inning off Kansas City starter Jordan Cooper. With two outs in the next inning, Cooper hit Brandon Jacobs before Curt Smith hit a two-run home run that extended Lincoln's lead to 3-0.
It seemed that might be enough for Lincoln starter Ryan O'Sullivan, who cruised through 7 innings, allowing only three hits and walking two.
Cooper gave up three runs and seven hits in 6 2/3 innings before giving way to Tyler Ybarra, who allowed one hit in 1 1/3 innings.
Kansas City (32-42) will open up a four-game series against Laredo (43-33) Thursday night at CommunityAmerica Ballpark. The game is scheduled to begin at 7:05 p.m. Tickets are available by calling the Providence Medical Center Box Office at CommunityAmerica Ballpark at 913-328-5618.
-- T-Bones –