News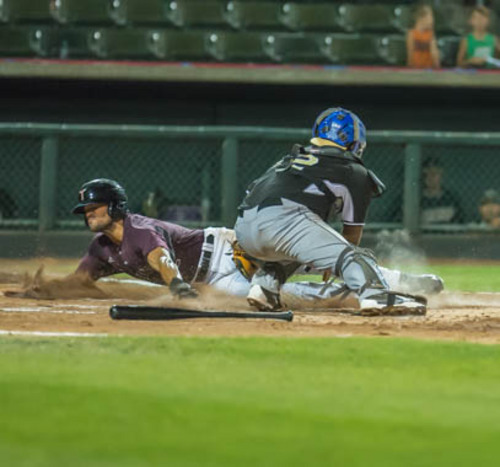 08/11/2016 9:25 PM
-
KANSAS CITY, Kan. – For a second consecutive night, the T-Bones put together a late rally, this time using it to beat the Laredo Lemurs, 5-3, in the series opener Thursday night at CommunityAmerica Ballpark. It's Kansas City's fourth consecutive win.
The T-Bones took the lead in the eighth inning, breaking a 3-3 tie. After Laredo reliever Kamakani Usui walked Tyson Gillies, Starlin Rodriguez got his second hit of the night. A sacrifice bunt by Vladimir Frias advanced the two runners. Pinch-hitter Dalton Wheat then gave Kansas City the 4-3 lead when he grounded a ball to shortstop Alvaro Rondon, whose throw to home was too late to get a diving Gillies. Usui, trying to intentionally walk the next batter, Tyler Massey, threw the first pitch over the head of catcher Jesus Posso, which allowed Rodriguez to score and give Kansas City the 5-3 lead.
With the game scoreless in the fourth inning, the Lemurs took the lead against Kansas City starter Josh Hodges. Hodges, who went 6 innings, walked Denis Phipps before facing Zane Chavez, who doubled to deep center field and sent Phipps home. Three batters later, after Massey made a terrific diving catch on a fly ball by J.D. Pulfer, Posso hit a home run to left, extending Laredo's lead to 3-0.
Frias led off the fifth inning with a home run to right-center that put Kansas City on the board. Massey followed with a double and advanced to third on a fly-out by Jimmy Mojica. Brett Wiley then doubled and got his 38th RBI as Massey scored, cutting into Laredo's lead, 3-2.
The T-Bones tied the game 3-3 in the sixth as Anthony Gallas hit the team's second lead-off home run of the night.
Josh Tols (5-3) faced the minimum in the seventh and eighth innings, holding the Lemurs at three runs, before Tyler Ybarra picked up his first save of the season, working around two singles in the ninth.
On Wednesday night, Kansas City scored three runs in the eighth and then got a walk-off homer in the ninth by Gillies en route to a 4-3 win over Lincoln.
The T-Bones (34-42) will continue to play host to the Laredo Lemurs (43-34) on Friday night at 7:05. Tickets are available by calling the Providence Medical Center Box Office at CommunityAmerica Ballpark at 913-328-5618.