News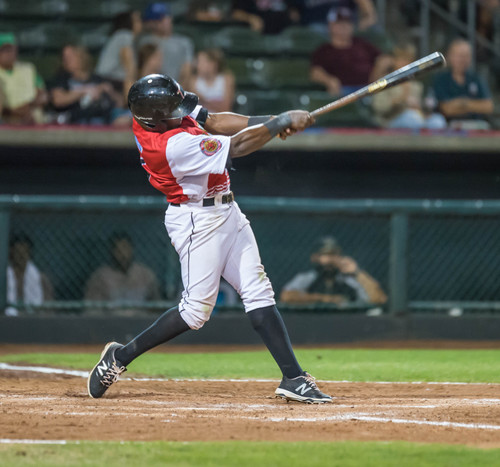 08/13/2016 10:05 PM
-
KANSAS CITY, Kan. – Starlin Rodriguez sparked Kansas City's offense Saturday night, as the T-Bones beat the Laredo Lemurs, 7-3, in front of 6,937 at CommunityAmerica Ballpark. This is the T-Bones sixth consecutive win, their longest winning streak this season.
Kansas City took a 2-0 lead in the third inning, when Laredo starter Gabe Perez walked Steve Swingle and Tyler Massey. With one out, Brett Wiley hit a two-run double to deep right field, that scored both Swingle and Massey.
Rodriguez extended Kansas City's lead to 3-0 with a solo home run in the fourth. It was his third home run of the season.
With the T-Bones leading 3-1, the Lemurs tied the game in the sixth. Kansas City reliever Josh Tols walked the lead-off batter Jesus Posso. With one out, Brennan Metzger singled before Tols walked Alvaro Rondon, loading the bases. Evan DeLuca (3-3) relieved Tols and induced a groundball to third by Ty Morrison. Kansas City third baseman Jimmy Mojica threw out Posso at home, preventing a run. J.D. Pulfer then lined a ground rule double to right that scored Metzger and Rondon.
The T-Bones came right back in the bottom of the sixth, however, sending eight to the plate and scoring three runs. Anthony Gallas reached on a fielder's choice against reliever Manny Martinez (0-2) and Tyson Gillies singled before Rodriguez doubled to the left field corner, and scored Gallas and Gillies, giving Kansas City a 5-3 lead. Vladimir Frias then knocked in Rodriguez, giving the T-Bones a 6-3 lead.
Rodriguez finished the night going 2-for-4 with three RBIs and two runs scored. Wiley went 2-for-3 with a walk, two RBIs and one run.
Kansas City starter Sean Furney, making his second start since returning last week from the disabled list, had a strong outing, giving up two hits, one walk and no runs, while striking out five in 4 innings.
The T-Bones (36-42) and the Lemurs (43-36) are scheduled to conclude this four-game series on Sunday afternoon at 1:05. Tickets are available by calling the Providence Medical Center Box Office at CommunityAmerica Ballpark at 913-328-5618.