News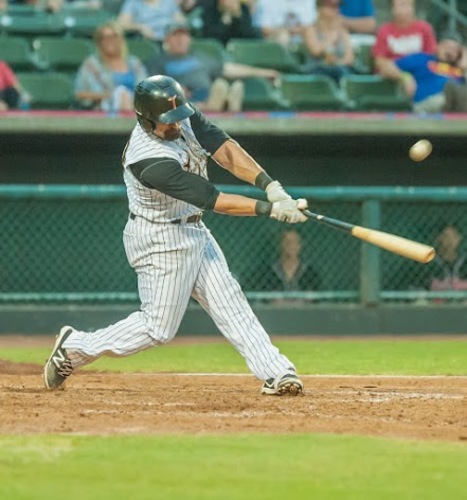 08/16/2016 11:00 PM
-
WICHITA, Kan. — Kansas City smashed three home runs in the second game of a doubleheader against Wichita, salvaging the twin-bill with a 6-3 win on Tuesday night at Lawrence-Dumont Stadium.

The T-Bones got started early in the first inning. With one out Dalton Wheat singled and was followed by a walk from Brett Wiley, putting two on for Jake Blackwood, who smashed a three-run home run over the left field fence, his 13th of the season. Blackwood went 3-for-4 with one run scored and three RBIs in the nightcap.

The offense did not stop at there. Leading 3-1 in the second inning, newly-signed Nolan Johnson reached base thanks to a dropped fly ball from former T-Bones player T.J. Mittlestaedt in center. Johnson came around to score when Wheat grounded into a double play. The very next inning, Anthony Gallas launched a solo homer over the left field fence, his 14th of the season. He was immediately followed by Starlin Rodriguez's fourth home run of the year, a solo shot that put the T-Bones ahead 6-1.

T-Bones starter Josh Hodges gave up three earned runs but held the Wingnuts in check for the most part. Hodges (4-6) pitched 6 innings and gave up eight hits with seven strikeouts and no walks. Mark Haynes (15) came in to pitch the seventh and pitched masterfully in his 1 inning of work. Haynes allowed one walk and struck out one, and shut the door on the Wingnuts.

In the first game, Wichita snapped Kansas City's seven-game winning streak with a 3-0 win behind starter Jesse Pratt, who allowed only one runner in scoring position through his 5 innings of work. In the third inning, Tyler Massey doubled with two outs and was followed by a Tyson Gillies walk. Wiley, however, flew out to left and ended the threat. Pratt (5-2) allowed three hits and two walks while striking out five. Frankie Reed (17) induced three straight fly outs in the seventh for the save.

Christian Stringer began the bottom of the first with a double off Kansas City starter Jordan Cooper. Two batters later, Mittlestaedt sent a shot to centerfield that bounced past Massey. Mittlestaedt came around for a two-run inside-the-park home run that gave Wichita a lead it wouldn't lose. Cooper (3-4) gave up six hits and three runs with three strikeouts in 6 innings.

Kansas City (38-43) continues the four-game series at Wichita (50-31) with game three Wednesday at 7:05 p.m. All of the action can be heard at TBonesBaseball.com.