News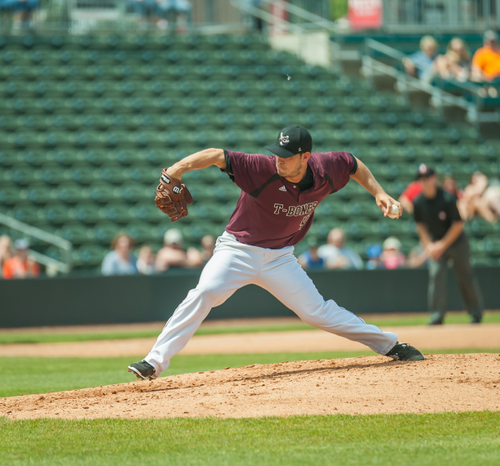 08/19/2016 7:00 AM
-
Left-handed sidearm pitcher Evan DeLuca is in his first full season with Kansas City, after joining the T-Bones late in 2015. DeLuca, who's from New Jersey, spent three years in the New York Yankees organization and one season in the Colorado organization before signing with Somerset of the independent Atlantic League last season. This year with Kansas City, DeLuca is 3-3 with a 3.32 ERA, and a strikeout-to-walk ratio of 40-25 in 40 2/3 innings. DeLuca has a career record of 8-10 with a 5.65 ERA in 105 appearances. Now that you know the stats, here are some things you may not know about DeLuca.

1. My favorite sports team besides the T-Bones is…the New York Yankees. I'm from New Jersey and was drafted by them so I'm kind of a fan.

2. If I was stranded on an island the two things I would need are…my iPod and probably my insulin since I'm diabetic.

3. My favorite all-time movie is…Happy Gilmore. It's a classic.

4. If I didn't play baseball I would be…an actor or play in a rock band.

5. My biggest fear is…large spiders. I will take them out with a hockey stick.

6. The best part about Kansas City is…the food and the people. Some of the best food I've ever had is Kansas City barbeque.

7. The best advice I've ever received is…there are two things you can control in life; your attitude and your effort, everything else is out of your control.

8. The one person in history, alive or dead, I'd most like to meet is…Edgar Allen Poe

9. The biggest influence in my life is…anyone who is better than me at baseball. I believe you're a product of the company you keep, and I never want to be the smartest or best in the room because there is always something to learn.

Compiled by Courtney Day of tbonesbaseball.com.