News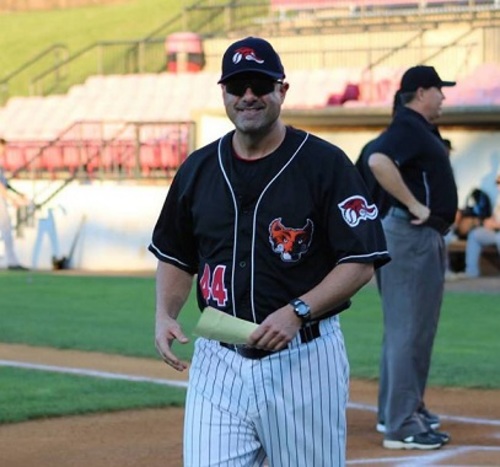 11/30/2016 2:09 PM
-
As an early way to get to know new T-Bones manager Joe Calfapietra, the following is today's story posted on the New Jersey Jackals' website.

The New Jersey Jackals announce that longtime manager Joe Calfapietra has signed a contract to become the new manager of the Kansas City T-Bones of the American Association for the 2017 season.

Calfapietra departs the Jackals as the winningest manager in club history with 728 career regular season wins. He owns one league title, 2004, and has taken his team to the League Championship Series six times in his 14-seasons at the helm. He was named Manager of the Year three times with the Jackals (2004, 2009 and 2012). He owns 848 wins in his managerial career.

Jackals General Manager and Owner, Larry Hall, who is one of Joe's closet confidants said, "At this moment it would be impossible to sum up and share everything I feel about Joe. I have always felt that Joe was the best. The best manager, the best player procurement person, and the best man to represent this organization. It is truly a sad day for all of us. I will always wish the very best for Joe because he has earned and deserves nothing but the best."

On reflecting on his great career with the Jackals, Joe Calfapietra said, "After 14 years in this great organization, I have to thank a lot of people. From the Hall family, to Larry Hall, and Greg Lockard, to our great fans, all of the players, trainers, club house managers and broadcasters this is a sad day for me. I was a Jackal for such a long time, and they are very close to me heart."

As the face of the New Jersey Jackals for 14 seasons, Calfapietra became one of the top player procurement evaluators in the business. He has seen five of his players go on to play in the Major Leagues, including: Craig Breslow, John Lindsey, Raul Valdes, and Stuart Pomeranz. The most recent former Jackal to pitch in the Majors is Tim Adleman, who pitched in the big leagues with the Cincinnati Reds this past season.

In the last two seasons, Calfapietra has sent six different players to Major League affiliates. Two of those players, Peter Mooney and Alex Powers will be in Triple-A next year. John Walter, Johnny Hellweg, Whit Mayberry, and Art Charles are slated for Double-A in 2017.

While Calfapietra was instrumental in shaping the careers of many minor league players at the independent league level, he was a winner. A man who preached a team first approach, Calfapietra was beloved by those who played for him. Before each season Calfapietra would hold court in his locker room with a very simple, but powerful statement. "You are my family." And for 14-years Joe's baseball family grew larger and larger. The names would change on the back of the jerseys, but the results were always the same.

John Walter who pitched for Calfapietra in 2015 and 2016 put it best when he said of Calfapietra, "Joe was the main driver that led us to win all those games. If not for myself, I always wanted to win for Joe. In all his successful seasons with the jackals he treated us like family and we looked to him the same way.

"He would literally gave us the clothes off his back if we were cold and for guys that were far from home, it really helped having someone like that you could turn to. He helped me grow as a player and supported me once I was picked up (both times). He'll always be one of the best managers I've had and a big part of the most fun seasons I've played. Good luck with everything, Joe, the T-Bones are lucky to have you."

Jackals' play-by-play broadcaster, Michael Cohen added, "Of all the managers I have met and worked with in my career, Joe was the best. Most managers don't have to be welcoming to the broadcaster or media guy, but Joe was different, he looked at me and treated me as one of his guys. If I could play for the man, I would. No matter what was going on with the team, Joe was a first class individual. I will always cherish the four seasons I spent working with his ball clubs. He is a true winner in every sense of the word."

Calfapietra captured the Jackals fourth league championship in only his second season at the helm in 2004, when he guided New Jersey from a 2-0 series deficit to a series victory over the NorthShore Spirit. From 2011 – 2015, the Jackals appeared in five consecutive Can-Am League Championship Series' under Calfapietra's guidance.

This past season, the Jackals won 62 games, tied for the most wins in a single season by a Jackals team. It was Calfapietra who swung an off-season deal to get Art Charles to New Jersey, and the first baseman rewarded his manager's trust with a season for the ages. Charles led the league in home runs (29), RBI (101), and batting average (.354) to capture the Triple Crown, League MVP, and Independent Player of the Year awards.

The Jackals wish Joe Calfapietra nothing but the best of luck in his new venture in Kansas City. The T-Bones are not only getting a terrific manager, but a tremendous human being as well. Thank you Joe for everything from all of us at the Jackals!