News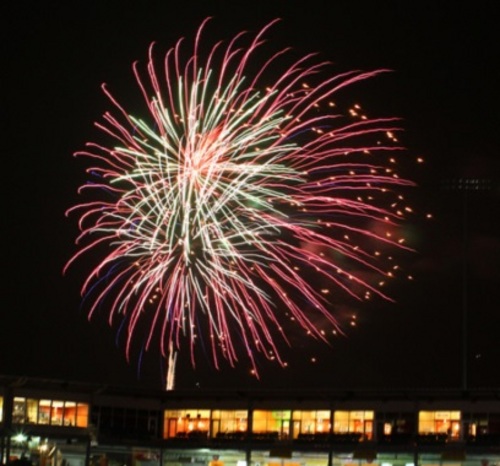 02/16/2017 9:39 AM
-
KANSAS CITY, Kan. – As the Kansas City T-Bones prepare for their 15th season, which begins on May 19, the club has announced its early promotions and events schedule for 2017.

For 2017, nightly promotions and ways to save on tickets have returned, along with several giveaways and special guests.

"We really concentrated on what would get the fans excited about not just baseball, but coming to the stadium and enjoying the whole night," said Morgan Kolenda, the T-Bones Director of Marketing and Game Entertainment. "Whether it's with their family or just a night out with friends, there's something for everyone, and that's the best part.

"I'm excited for this season because not only is it our 15th anniversary season but it's a whole new year of fun...well done!"


SPECIAL GIVEAWAYS
T-Bones T-Shirt: The T-Bones will have a T-shirt giveaway on Opening Day, Friday, May 19, against Lincoln, sponsored by CommunityAmerica Credit Union.

T-Bones Jersey: The ever-popular adult T-Bones jersey giveaway is Tuesday, July 18, against Lincoln.

Christmas Ornament: Before the "Christmas in July" game on Friday, July 28, against Texas, fans will receive a T-Bones Christmas ornament.

Drawstring Backpack: For "Back to School" Night on Friday, Aug. 11, fans will receive a drawstring backpack before the game against Laredo.


SPECIAL APPEARANCES
The Voice Contestants: On Sunday, July 9, Nicholas David and Grace Maher, contestants from NBC's The Voice will perform a concert following the 1:05 p.m. game against Sioux City.

Midget Wrestling: After its successful debut in 2016, midget wrestling returns to CommunityAmerica Ballpark following the Friday, July 21, game against Winnipeg.


SPECIAL EVENTS
15th Anniversary Game: On Tuesday, June 6, the T-Bones will celebrate the 15th anniversary of the club's first game in Kansas City with 2003 ticket prices and special appearances by former T-Bones players.

National Hot Dog Day: The T-Bones will celebrate "National Hot Dog Day" with 50 cent hot dogs, presented by Wimmer's, on Sunday, July 23, against Winnipeg.

Pink in the Park: On Friday, Sept. 1, against St. Paul, the T-Bones will be honoring those who have fought or are fighting breast cancer.


WEEKLY PROMOTIONS
Although the team will announce its full list of nightly promotions soon, here are a few highlights:

Thursday: "Throwdown Thursday" with $2 beers.

Friday: "15th Anniversary Friday" with buy-one-get-one GA tickets for fans wearing themed costumes or T-Bones apparel.

Saturday: Post-game fireworks.

Sunday: "Seniors Savings Sundays" with fans 55 and older receiving buy-one-get-one on Select seats at CommunityAmerica Ballpark, and post-game kids run the bases.

All of the above promotions, dates and giveaways are subject to change. More great promotions and events are being developed, and will be announced soon. The current complete promotions list can be seen at www.tbonesbaseball.com/promotions.

For more information or to secure your season tickets, call 913-328-5618 or visit the Providence Medical Center Box Office at CommunityAmerica Ballpark.