News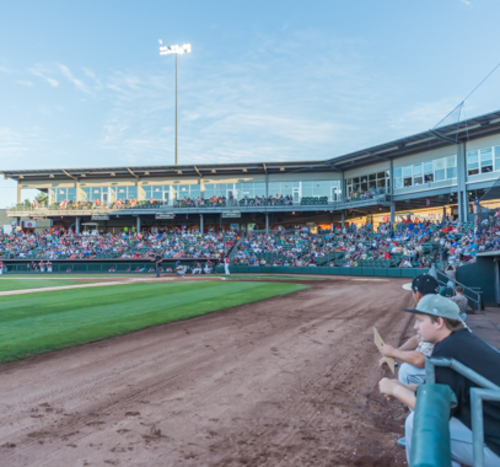 04/28/2017 12:45 PM
-
KANSAS CITY, Kan. – The Kansas City T-Bones announced that CommunityAmerica Ballpark will be the site of the upcoming Kansas class 4A-DII Regional Baseball Tournament.

Bishop Ward is the host school for the games on Tuesday, May 16. The other schools playing are Holton High School, Jefferson West and Santa Fe Trail High School.

"We're happy to host this event at CommunityAmerica Ballpark here in Kansas City, Kansas," said T-Bones Vice-President and General Manager Chris Browne. "It is exciting for teams and players to play on a pro field at this level. We're glad to bring championship high school baseball playoffs to our park. We look forward to working with the fine folks at Bishop Ward."

"It's an honor for the Kansas State High School Activities Association (KSHSAA) to allow us to host this event," said Bishop Ward Athletic Director Kam Ridley. "We're looking forward to teaming up with CommunityAmerica Ballpark and the Kansas City T-Bones. We are excited to welcome Holton, Jeff West and Santa Fe Trail to Kansas City, Kansas. This is a great opportunity for our athletes to compete at such an outstanding venue and for families and friends to share this experience at the stadium. We extend a special thank you to Community America Ballpark and the Kansas City T-Bones for their generosity and support."
Games are scheduled to be played on the afternoon of the 16th at 1:00, 3:00 and 5:00. Tickets may be purchased the day of the games. Prices are $5.00 for adults and $4.00 for students in grades K–12. No passes will be accepted for this event. Gate A, the main entrance at CommunityAmerica Ballpark, near the Meat Locker team store, will open at noon.

"I am thankful for the T-Bones baseball club and CommunityAmerica Ballpark for allowing us to host the Class 4A-DII Regional Baseball tournament," said Bishop Ward President Rev. Thomas Schrader, O.Carm. "It is a favorite venue of the fans; a great way to showcase Wyandotte County; and an excellent opportunity to promote T-Bones Baseball as an impressive place for family entertainment."

Concession stands will be open, so no outside food or drink is allowed. Alcohol is not allowed on the property during this tournament.