News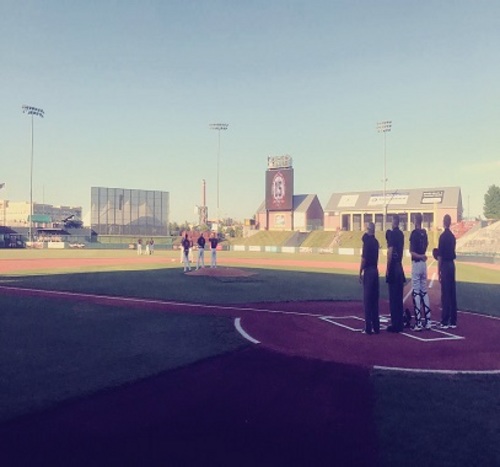 05/15/2017 8:59 PM
-
KANSAS CITY, Kan. – On a breezy and beautiful Monday evening, the Kansas City T-Bones defeated the Winnipeg Goldeyes, 3-1 in their final exhibition game of the 2017 season at CommunityAmerica Ballpark.
The T-Bones' trend of grabbing the early lead throughout the first three innings ended when Goldeyes' shortstop Andrew Sohn hit a homerun off of right-handed pitcher Jeff Walters, giving Winnipeg the early 1-0 lead.
That lead didn't last too long; after a long offensive drought, catcher Joe Jackson got the T-Bones going with a double in the bottom of the fifth inning. Advancing to third with a steal, shortstop Brett Wiley then sent Jackson home to give the T-Bones their first run of the evening and tie up the game 1-1.
The T-Bones got the momentum rolling in the bottom of the sixth when Kevin Keyes hit a two-run home run down the left field line, bringing Marcus Lemon home to give the T-Bones their first lead of the night 3-1.
The Kansas City bullpen would retire the next 10 batters to help seal the win. With the win the T-Bones finished the preseason schedule at 4-2.
The T-Bones batted in the bottom of the ninth despite leading in the game to allow Winnipeg to get some extra work in for their pitching staff. Kevin Keyes hit his second home run of the night, a deep blast to center field clearing the bullpen off of Victor Capellan to make the score an unofficial 5-1.
The T-Bones will open the 2017 regular season at home on May 19 against Lincoln. For additional information or interview requests, members of the media may contact the T-Bones Media Relations Department at 913-328-5639. Tickets are available online, by calling (913) 328-5618 or by visiting in person the Providence Medical Center Box Office.
-- T-Bones --