News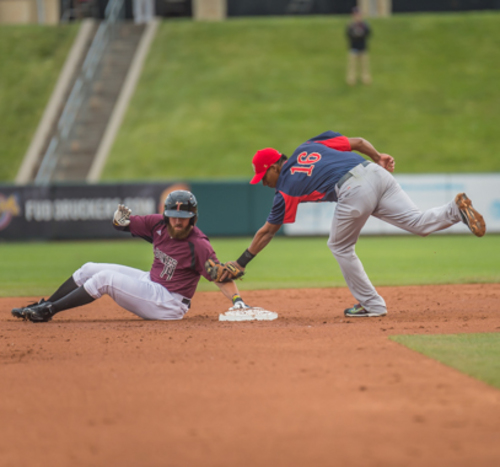 05/20/2017 10:32 PM
-
KANSAS CITY, Kan. – It was a night of back and forth for the T-Bones and the Saltdogs, but Lincoln found the upper hand as Kansas City dropped the second game of the series, 4-2.
Third baseman Marcus Lemon hit an early home run off of Lincoln's Carlos Pimentel in the bottom of the first to put the T-Bones up 1-0 over the Saltdogs. Lincoln would waste no time tying the game up in the top of the second. Marcus Lemon committed a throwing error on an infield single by Deshenko Ricardo, scoring Trever Adams, and the game was tied at one.
From then until the fifth inning, the chances were few and far between — but a double from Daniel Rockett in the bottom of the second, another from Lemon in the bottom of the third gave the T-Bones potential to score, but Lincoln's Carlos Pimentel kept shutting down any opportunity Kansas City had.
In the top of the fifth, Curt Smith hit a solo home run off of starter Gabe Perez to put the Saltdogs up 2-1. Joe Jackson immediately answered in the home half of the fifth with a solo home run of his own to tie the game up at two.
With the game tied, the T-Bones summoned reliever Luis Paula in the sixth inning. With runners at first and third, Daskenko Ricardo hit into a fielder's choice that T-Bones shortstop Eddie Newton could not field cleanly allowing Trever Adams to score from third giving Lincoln the 3-2 lead. Newton was charged with an error on what would have been a force at second base.
Righty Grant Sides took the mound in the top of the seventh but allowed another run. Lincoln was now up 4-2 on a lead-off walk to Cesar Valera and a two-out RBI single from Christian Ibarra.
The T-Bones would get a lead-off double from Marcus Lemon in the seventh, but Fabio Martinez retired the next two T-Bones and was followed by Michael Wagner who retired the next six Kansas City batters to close out the game.
The T-Bones will host the series finale Sunday at 1:05 p.m. at CommunityAmerica Ballpark. Tomorrow afternoon's game will feature a post-game kids run the bases and a steak and beer special.
For additional information or interview requests, members of the media may contact the T-Bones Media Relations Department at 913-328-5639. Tickets are available online, by calling (913) 328-5618 or by visiting in person the Providence Medical Center Box Office.
-- T-Bones --