News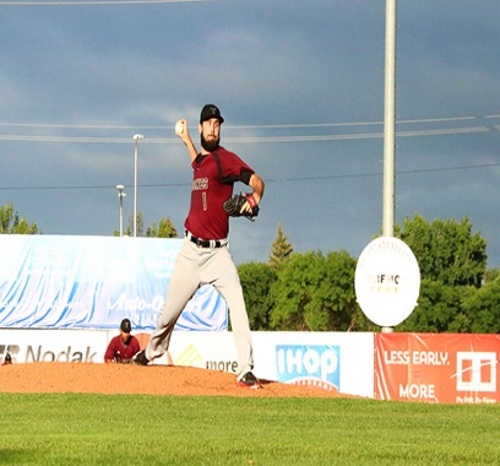 07/12/2017 10:16 PM
-
FARGO, ND – The Kansas City T-Bones (30-20) reached a season high 10 games above .500Wednesday night at Newman Outdoor Stadium with a 5-2 win over the Fargo-Moorhead RedHawks (24-27).
Facing RedHawk starter Tyler Herron (3-2), who beat the T-Bones back on June 20th, the visitors were ready from the get go. Kansas City grabbed a pair of runs in the first on a Kyle Petty RBI infield single and a bases-loaded walk from Jordan Edgerton to take the early lead.
In the top of the second, Marcus Lemon singled and came home from first on a double to left center field by Kevin Keyes to extend the lead to 3-0. Tyler Horan then launched a two-run home run to right field to give Kansas City a 5-0 lead.
Veteran Scott Carroll (5-2) took over from there, holding the RedHawks to just two runs on six hits with five strike outs to grab the win for Kansas City. Fargo-Moorhead got their first run on a solo homer from Kuery De La Cruz in the sixth and scratched out the second one and an RBI single from Charlie Valerio off Carroll in the seventh.
Rich Mascheri worked a scoreless eighth inning, while Luis Paula worked a 1-2-3 ninth to record his first save of the season. For the loss Herron would work eight innings for Fargo with nine strike outs, retiring nine straight at one point.
The win kept the T-Bones a game ahead of Lincoln and two games ahead of Gary SouthShore in the American Association Central Division and sent Kansas City to a season high 10 games above .500. It also marked the half way point in the season for Kansas City.
Game three of the series is set for Thursday afternoon at 12:30pm with RHP Matt Sergey (2-0, 4.06) getting the ball for Kansas City against at LHP Will Solomon (3-1, 3.51) for Fargo-Moorhead. The game can be heard online on the T-Bones Broadcast Network on the T-Bones' MixLR page on the MixLR app on your phone or device, or head to tbonesbaseball.com and click "listen live". New this trip--if you are used to following the games at home on AmericanAssociation.TV, you can listen in live there as well to the audio call of the game.
Following the series in Fargo, the T-Bones make their only trip to Canada this season to play a three game weekend series against the Winnipeg Goldeyes. The T-Bones return home Tuesday, July 18 to open up a six-game home stand. For additional information or interview requests, members of the media may contact the T-Bones Media Relations Department at 913-328-5639. Tickets are available online, by calling (913) 328-5618 or by visiting in person the Providence Medical Center Box Office.
-- T-Bones --