News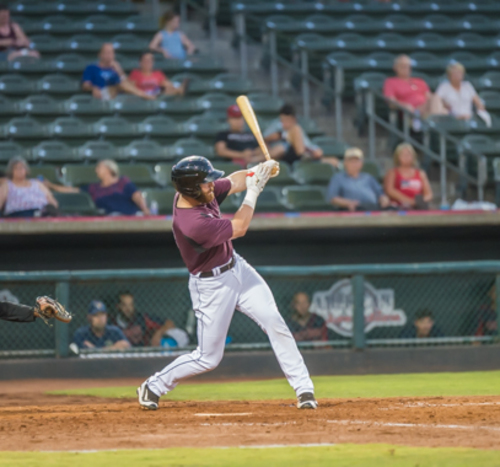 07/20/2017 9:11 PM
-
KANSAS CITY, Kan. – The Kansas City T-Bones picked up their first game of the series with a 6-3 victory over the Lincoln Saltdogs on Thursday night at CommunityAmerica Ballpark.
It appeared as if the Saltdogs were going to take control of the game early and leave the T-Bones in the dust after they scored two runs in the first inning. Kansas City would be the ones to take control of this game, however.
Designated hitter, Curt Smith, hit an RBI single to bring in the first run followed by a second RBI single from left fielder, Brandon Jacobs, putting the Saltdogs up 2-0, briefly.
The T-Bones immediately tied it up in the bottom of the inning with a single from designated hitter, Tyler Horan, bringing in right fielder, Chantz Mack, and second baseman, Marcus Lemon, to tie the game up at two.
After four scoreless innings for both teams, the T-Bones took control in the bottom of the sixth. Kansas City took their first lead of the night off of a single RBI from center fielder, Kyle Petty. Third baseman, Jordan Edgerton, extended the lead by bringing in two more runs with a triple to deep center field. A putout by left fielder, Joe Jackson, would score Edgerton and nearly seal the victory for the T-Bones.
The Saltdogs added one final run in the top of the ninth to cut the lead to 6-3, but ultimately wouldn't be able to come back from the Kansas City's four run sixth inning.
Right-handed pitcher, Calvin Drummond (3-0, 3.32), notched the victory for the T-Bones and Carlos Pimentel (6-4, 4.24) suffered the loss for the Saltdogs.
Tomorrow night's game will feature right-handed pitcher, Gabe Perez (5-3, 5.09) for the T-Bones and Mikey O'Brien (6-3, 5.40) for the Winnipeg Goldeyes.
The T-Bones will begin a new series tomorrow night against the Winnipeg Goldeyes at 7:05 p.m. at CommunityAmerica Ballpark. After the game the T-Bones will host their 2nd Annual Midget Wrestling Championship.
For additional information or interview requests, members of the media may contact the T-Bones Media Relations Department at 913-328-5639. Tickets are available online, by calling (913) 328-5618 or by visiting in person the Providence Medical Center Box Office.
-- T-Bones --