News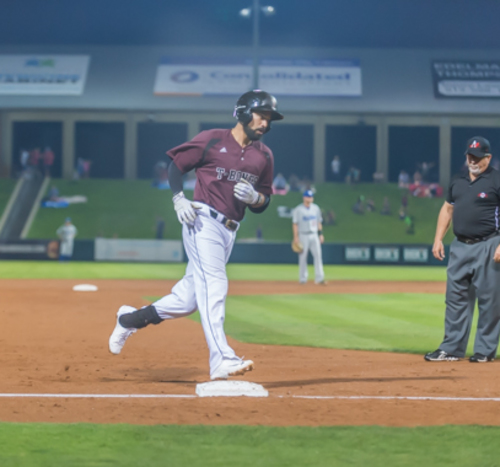 09/03/2017 11:54 PM
-
KANSAS CITY, Kan.- The Kansas City T-Bones will live another day in the American Association Wild Card playoff day after a wild 11-8 win over St. Paul Saints Sunday night at CommunityAmerica Ballpark in front of a crowd of 5,034.
The T-Bones dug themselves a hole early when St. Paul scored a pair in the first and second innings. Nate Hanson and Mitch Delfino each had RBI singles off newly-acquired T-Bones starter Jared Mortensen, making his home debut for Kansas City. St. Paul would add two more runs in the second on RBI single from Dan Johnson to give the Saints a 4-0 lead.
Kansas City looked to be in real trouble until the top of the third inning. With one out Kevin Keyes singled off Saints starter Ryan Zimmerman. Jordan Edgerton would walk and with one swing Niko Vasquez hit a three-run homer to left to cut the lead the 4-3.
The rally was not yet complete. Chantz Mack got aboard on a base hit, and he was followed by Kyle Petty who hit the second homer of the inning to make it 5-4 Kansas City. Mortensen then settled in and tossed three scoreless innings for the T-Bones.
Kansas City scored two more runs in the sixth. Tucker Pennell singled to start the inning off Zimmerman. Cedric Hunter reached on a fielder's choice with Pennell reaching second on an error by second baseman Mitch Delfino. Marcus Lemon then would lay down a sacrifice bunt that catcher Maxx Garrett threw away at first, allowing Pennell to score and Hunter to move to third. Kevin Keyes then hit a sac fly to right field to score Hunter, and it was 7-4 Kansas City.
In the seventh the Saints came right back to take the lead. Brady Shoemaker hit a two-run home run to left to cut the lead to 7-6 off Mortensen. Rich Masheri came into the game for Kansas City and walked Dan Johnson and then gave up a single to Nate Hanson. Kes Carter then put down a bunt that drifted past Mascheri on the right side of the infield to load the bases for a single.
Mitch Delfino then drove in a run with an RBI single to left to score one run, but Kyle Petty gunned down Hanson at the plate for out number one. Mascheri struck out Maxx Garrett and was replaced by Grant Sides. Sides looked to get out of the inning with a ground ball to short, but Niko Vasquez threw wide of second, allowing the go-ahead run to score from second and making it an 8-7 lead. The other two runners over ran their bases, and there was a back and forth run down between third and the plate and second and third for the final out of the inning. It was scored first to catcher to second to catcher to second to the pitcher.
The T-Bones would come right back in the bottom of the seventh to take the lead. Chantz Mack was issued a walk by new reliever Ivan Vieitez to start the inning. Kyle Petty was able to just beat out a double play on a fielder's choice at short that forced out Mack at second for out number one. Zane Chavez would walk to put runners at first and second. Tucker Pennell then doubled to drive the tying run in, and we were all even at eight.
Chandler Hawkins came into the game for St. Paul to face Cedric Hunter. The T-Bones center fielder gave Kansas City the lead with an RBI single, and it was 9-8. Marcus Lemon reached on a fielder's choice, but an error by Dan Johnson throwing home to attempt to get Pennell was high, and it was 10-8 Kansas City. The T-Bones grabbed an insurance run in the top of the eighth on walk from Kyle Petty and two wild pitches that moved him to third by Hawkins. Zane Chavez then drove in Petty to make it 11-8 Kansas City.
Grant Sides (2-3) got the win while the loss went to Vieitez (0-2) with Cody Winiarski getting his 21st save. The win kept the faint playoff hopes alive for Kansas City. The T-Bones must win Monday's season finale and hope for both Gary and Fargo-Moorhead to lose their games.
The T-Bones and Saints will wrap up the 2017 season Monday at CommunityAmerica Ballpark at 1:05 pm for Fan Appreciation Day. RHP Andrew Gutierrez (0-1, 1.50) will take the mound for St. Paul with the T-Bones turning to RHP Luis Paula (7-2, 2.91). For additional information or interview requests, members of the media may contact the T-Bones Media Relations Department at (817) 739-3693. Tickets are available online, by calling (913) 328-5618 or by visiting in person the Providence Medical Center Box Office.