News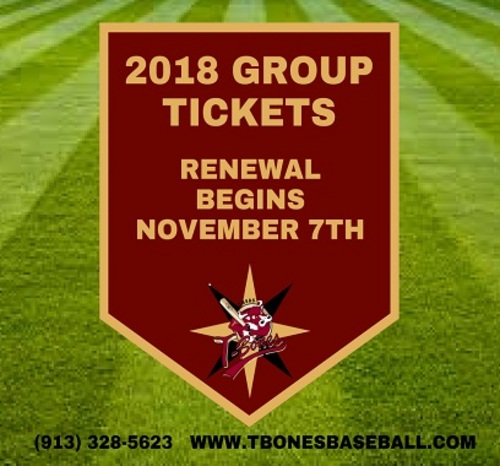 11/03/2017 3:49 PM
-
By Dan Vaughan
The offseason is now in full swing, and the summer of 2017 is firmly in our rear-view mirror. I have finally been able to put that last week behind me personally, where we came so close to the post season. With that thought as I sit here, I realize that baseball is far off. Heck, how many days? Months? Heck, I am losing track counting!
Then I stop and let the magic of T-Bones baseball help me get through it all. If you do what I do and close your eyes and just let the T-Bones magic work, you will start to think about those great summer nights at the ballpark. And if you let that magic keep working, you will see that 2018 is off in the distant horizon. It is there just over the mountains of winter. You can see the new season just off in that distant view, ready for us to embrace another season of T-Bones baseball.
While you and I dream of a night of baseball with our T-Bones, a great way to keep the fire burning is to mark your calendars now and plan your group nights. Even better, there is no time like the present as group ticket renewals start at 10am on Tuesday, November 7th. Yes, that is this Tuesday!
I love to sit in the broadcast booth and see so many smiling faces enjoying our T-Bones family. I love to walk the park before the game, shooting a T-Bones Live event on Facebook and getting to meet and greet so many of our groups who join us every night. For so many of us, it is the highlight of the summer. There is no doubt a night out at the ballpark with #FunWellDone and your Kansas City T-Bones is the perfect way to celebrate your event or company with co-workers, friends and family.
With the 2018 schedule published, now is the time to pick out your ideal date for your group. Our representatives can customize your night to meet your needs and can turn your group night into the highlight of the year for your gang. I have been in this game long enough to spot that the group sales reps with the T-Bones are the best in the business. Last season was my first season, but the thing that got my attention from the first day on the job was what our staff expends every effort to make your night the best. They really do care!
While the air gets cooler, our thoughts turn to a warm July with the T-Bones and our great game. If you came out last year and had a blast, then call 913.328.5623 or email [email protected] to get this year's fun...well done all lined up! Maybe you have always thought it would be a good idea to have a group night? Then give the club a call or visit with one of our group reps who will make sure that you will have a night you will never forget.